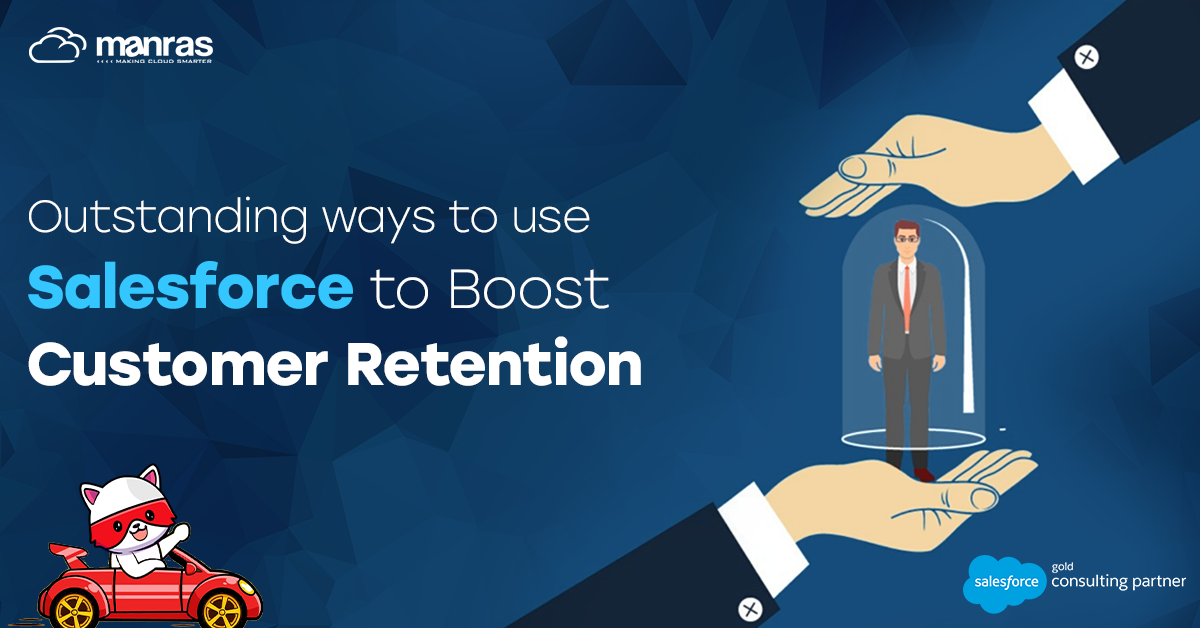 Outstanding Ways to Use Salesforce to Boost Customer Retention
A loyal customer is an important asset to the business. Loyal customers are 7 times more likely to try new offerings and 5 times more likely to repurchase. They are 4 times more likely to recommend the brand and 5 times more likely to forgive the brand for mistakes. A 5% increase in customer retention has the potential to pump up profits by 25-95%! Further, customer acquisition costs five times more than customer retention!  
One of the key Salesforce benefits is that it enables businesses to nurture long-lasting relationships with customers and boost retention. Here's how.
By integrating Salesforce with your daily application software and other third-party apps/ software, you can centralize all customer data from disparate channels and sources on one unified platform. It eliminates data duplicity and inaccuracies from databases. Data centralization ensures hassle-free access to a 360-degree view of the customer to all teams. 
Overall, businesses can ensure frictionless customer experiences through greater collaboration and faster decision-making. To get the best results from integration, enlist the help of top-notch Salesforce Integration Service providers like Manras.
Craft authentic and personalized experiences across platforms
Customers expect a holistic, seamless, and 1-to-1 experience across all touchpoints. The 360-degree view of the customer must be leveraged to craft personalized messages. Take advantage of the automated workflows offered by Salesforce to personalize at scale.
For building great customer experiences, mapping the customer journey is necessary. It enables businesses to draw out the customer lifecycle, identify touchpoints for each customer and analyze gaps between existing strategies and expectations. Salesforce benefits businesses in re-strategizing to eliminate these gaps and in creating re-engagement strategies for inactive subscribers.
With the Journey Builder tool offered by Salesforce, it is easy to embed such customer-Centricity. This tool makes understanding and adapting to changes in customer preferences effortless. It enables the identification of moments that matter in the customer journey to power personalization in messages and offerings.
Leverage Social Studio to nurture connections beyond the app and website
Given how social interactions affect customer experiences, Salesforce Marketing Cloud's Social Studio enables businesses to extend the brand experience to popular social channels. With the power-packed Social Studio features, businesses can listen to and analyze conversations on all channels, gather intelligence, understand customer sentiments, and effortlessly engage customers. Businesses can track negative feedback and instantly take corrective action across platforms.
Customer service is a critical marketing tool
To retain customers for the long haul, remarkable customer service is critical. With Salesforce Service Cloud, businesses can effortlessly manage customer issues, complaints, and requests at scale. Powered by analytics, AI-driven insights, and automation, you solve issues before they happen and engage effectively with customers.
Boosting customer retention with Salesforce provides a sea of opportunities to maximize ROI at a fraction of the cost of acquiring new customers. Leverage Salesforce Implementation Services from experts like Manras, a Salesforce Gold Consulting Partner, to create highly tailored and effective solutions that boost customer retention.