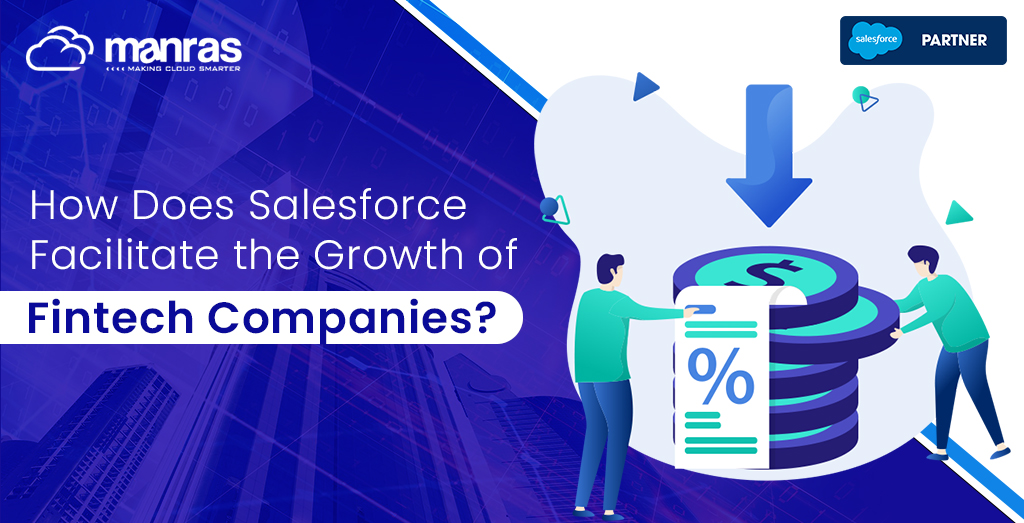 How Does Salesforce Facilitate the Growth of FinTech Companies?
The FinTech industry is going through an interesting journey where the market is booming, and the unmet customer financial service demands are being met in new and exciting ways. The rapid growth of the FinTech sector can be attributed to increased access to the internet, smartphones being easily available, and high-speed connectivity. The evolution and adoption of digital payment systems have also contributed to the increase in the use of financial services.
Salesforce solutions for financial business has a market-leading CRM platform that has helped FinTech firms worldwide grow successfully. To find out how Salesforce is doing this, keep on reading.
How Salesforce Helps FinTech Companies Reach Their Full Potential?
Salesforce provides a lot of benefits to FinTech companies which helps them in reaching their full potential. A few of these benefits which cause FinTech growth with Salesforce are as follows:
The Salesforce sales cloud provides a modern solution to writing customer details on sticky notes, notepads, spreadsheets, etc. Usually, what happened was that the Sales reps usually kept track of the customer details and loan requirements, and there was no confirmed and convenient way of keeping track of the business.
Sales Cloud, which is a part of the salesforce platform, allows a view into your team's performance and patterns. This helps in making tough business decisions much easier. You can see your FinTech's top performers with Sales Cloud and use this information in the allotment of the best prospects. The allocation of human resources in a way that the most efficient sales reps get the best prospects will be very efficient for the business.
The Salesforce solution for financial businesses of predictive analytics allows FinTech companies to follow the best possible path and use actionable data from these analytics to adjust the course.
Working through a bulk of unstructured data and fragmented data is a struggle that financial services firms face a lot in their business. Massive amounts of data can be collected by systems, but they fail to give easy-to-understand details. With Salesforce CRM, the information can be compiled into a data dashboard. It then uses its Artificial Intelligence technologies to provide suggestions that are meaningful and easy to understand.
The Financial Services Cloud and Slack of Salesforce help in putting the customer at the forefront of banking, insurance, lending, and mortgage firms. Salesforce's single connected platform can provide personalized client experiences, streamline the loan application process, omnichannel engagements, and evolution of banking operations.
The client insights and built-in compliance of the financial services cloud also help in creating more deeper and meaningful relationships with clients. The Financial Services Cloud causes complete financial development with Salesforce for FinTech firms.
Salesforce Customer 360 Provides Growth Opportunities for FinTech Companies
Salesforce customer 360 is a customer management tool that is an all-encompassing digital-first platform. It helps in the management of loan life cycles of lending firms, which comprises everything from digital loan application management to credit decisions and approvals. The core insurance processes and policy lifecycles of Insurtech firms can also be brought to the cloud with the Customer 360 platform.
The AI analytics of Salesforce help in unlocking business insights for FinTech firms that accelerate growth. The productivity and customer experience are also improved with its automated workflows and self-service tools. The personalization feature used on websites and apps delivers real-time relevant recommendations and the next best activity for customers or prospects.
Connecting and exchanging information with partners and third parties are made much simpler with the robust API engine of Salesforce. This allows the growth of FinTech firms with Salesforce. The scale and agility to succeed are also ensured.
Salesforce Streamlines Various Processes For FinTech Companies
A FinTech firm has to maintain itself well concerning its security and operational features. Cybercrime, miscommunication, errors, insufficient processes, and lack of compliance are all causes that can lead to some very crippling risks within a FinTech firm, such as a breach of important data.
A streamlined process that is integrated with the necessary tools can prevent the above-mentioned problems, save expenditure, gain profits and also maintain security for the firm. Salesforce can help FinTech companies streamline the processes through its accessibility to the latest technology, workflow and process improvements. The ability to avoid mistakes, data breaches, and operational risks that lead to a poor brand image is the number one reason for streamlining with Salesforce.
The requirements of customers can be accessed in real-time with Salesforce. This way, the FinTech firm can offer their financial products when customers require them. The convenience provided by this method to the customer significantly boosts sales and helps in the conversion of leads into loyal customers.
The ROI on marketing campaigns, lead acquisition, and lead generation and tracking is also made easy with Sales Cloud, a feature-rich software solution that is present in Salesforce. After the one-time setup of Sales Cloud, the lead conversion is made automatic. This means that the manual copy-paste of the leads is no longer necessary. The various levels of sales reps also see the right information because of the Sales Cloud. Valuable insights and oversights of leads are also provided by Salesforce CRM. In these ways, improved ROI with Salesforce in the FinTech industry is achieved.
Digitalization with custom Salesforce integration makes it easy for FinTech companies to scale and innovate. This leads to FinTech growth with Salesforce. It also makes the hard and risky task of moving towards digital transformation much easier and more manageable. The CRM software needs of the financial services sector are met in a sophisticated way with this cloud computing solution.
Manras is a trusted Salesforce partner that provides Salesforce support and Salesforce implementation services. Our 120+ customers in 20+ countries for whom we have created more than 100 successful projects are enough to showcase our dedication towards building customer relationships and not partnerships. Our team of highly qualified and experienced consultants and engineers are in a league of their own when it comes to Salesforce consultants.