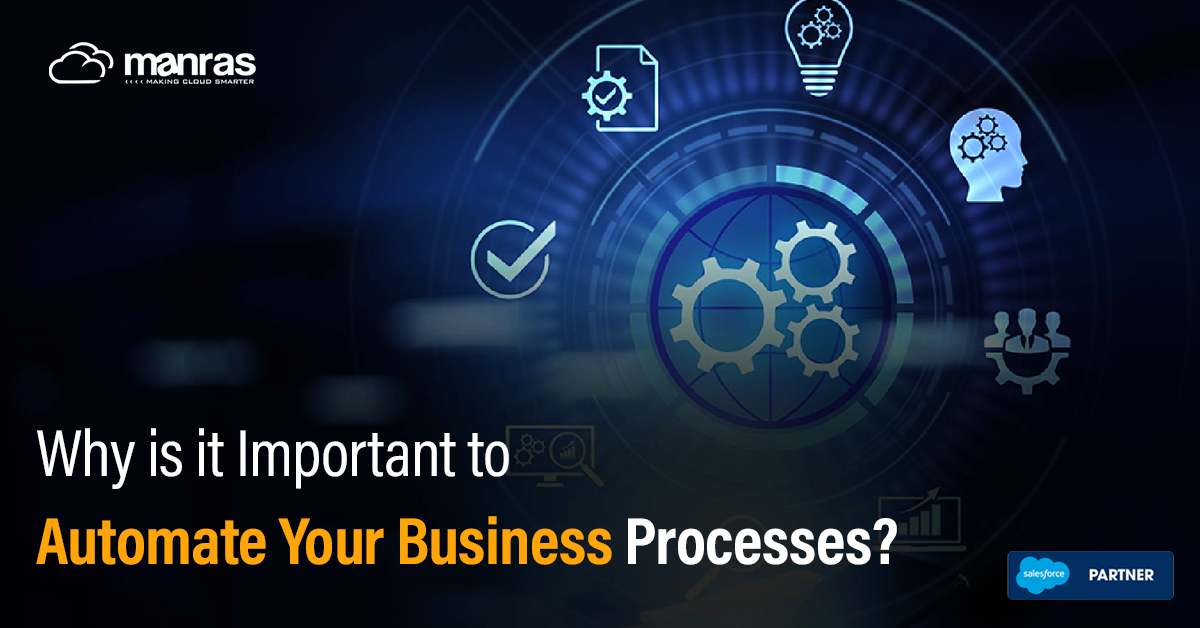 Why is it Important to Automate Your Business Processes
The future is now. And now is all about automation. Competition between businesses is cutthroat. Implementing the latest tools of AI and ML can help you automate business processes and stay ahead of your competition. Used correctly, this can bring a great change in your business and improve everything from productivity to operations. Nowadays, even the smallest enterprise does their best to take advantage of such technologies.
Business process automation is establishing itself as one of the fastest-growing sectors of the software market. It is only gaining momentum and refuses to show any signs of stopping. However, automation is not simply about avoiding work for humans. Properly using an automation process will allow your enterprise to allocate resources more efficiently and free up space for your human resources. Here in this article, we'll examine why it is important to automate your business processes.
What is Business Process Automation?
Business process automation is the replacement of humans by the use of technology for highly repetitive and time-consuming tasks. As a result of this, the requirement of human effort is reduced, and errors are also reduced. This, in turn, makes business processes workflow more efficient and consistent. Your business can then use the time that is saved on other important work.
On a simpler scale, business process automation is already rampant in manufacturing industries. Trivial tasks like filling content in packets, assembling and packaging are often only done by the use of machines. However, with more advancements in technologies in the field of software, it is spreading to other businesses. You can avail yourself of the services of businesses like Manras Technologies to get started with business process automation.
What Kind of Tasks Can be Automated?
A good rule of thumb to remember is that any task that is well defined and consists of repeatable steps can be automated. This includes almost all paper-based work that doesn't need a high level of logical thinking. Almost all employees have a daily set of tasks that are time-consuming and can be automated. As per a report from McKinsey, almost 60% of occupations can save 30% of their time by employing automation. Some of the most common tasks that can be automated include things like invoicing, document approval, KYC checks, employee onboarding and such.
Why Should You Automate Your Business Process?
Time is money, or so the saying goes. In the world of business, where there is a need to achieve ever-growing numbers, this mantra certainly holds. And saving time is the foremost benefit of automation. On average, an office worker spends around 2.1 hours per day on trivial work like approving paper, information search and document processing. Automating these tasks can help complete them much faster all the while making them error-free. Ultimately, your employees get to use their time for more important tasks.
1. Reduced Costs
Automating business processes will not only help reduce the cost of labour but also avoid lost profit. Lost profit is the loss of revenue from inefficient processes. Companies lose anywhere from 20-30% of their revenue every year in lost profit. Decreasing these costs would lead to quite a significant jump in profit margins. Automation will also allow your business to reduce errors. And with fewer errors, less time and money will be needed to fix them.
2. More Efficient Business Processes
When an ideal outcome is achieved with minimal effort, we call it an efficient process. Automation executes a series of predefined steps consistently, thereby reducing the room for deviations. It translates into greater visibility, improved quality and more efficient management of tasks.
3. Automation Minimises Errors
Even your most capable and skilled employees are only human. And to be human is to err. Even with their utmost effort, mistakes are inevitable. Manual slip-ups, human errors, inefficiency points and delays are bound to happen sooner or later. By automation, you remove the risk of avoidable errors and make the process more streamlined to avoid redundant operation. While automating business processes may come with its own set of problems. Generally, the overall errors are drastically reduced.
4. Improved Scalability
As a business expands, the amount of workers also expands along with the scope of work. Running a large business is not the same as running a small one. New problems which were non-existent before started to crop up. After all, manually issuing a few invoices is not similar to issuing 1000. The same goes for other business processes. Thanks to automation, shifting business needs can easily be covered and addressed. As a result, there is a visible improvement in scalability performance.
How Can Third-Party Business Automation Solutions Help?
Getting started with automation is far easier than it seems. Third-party software can effectively and successfully help you start with automation in a short time. They provide considerable advantages over in-house solutions, such as:
1. Easy set-up
You won't have to hire any professionals to set up the software. The provider will take care of all of these things.
2. Flexibility and constant access
You only need an internet connection to have constant access to your processes. The provider hosts the software on their servers, so you don't need to set up any additional device either.
3. Better security
Even if your network gets hacked, you can rest assured that your business processes and data will remain unaffected as they are hosted on the servers of the software provider.
Conclusion
More and more companies are moving towards automation. And why not? With its large return on investment, automation is a great tool to increase productivity. With just a few steps, you get to simplify tedious tasks, thereby freeing up resources for other things. Realising the potential of automation of business has cropped up around it and provides automation services.
Manras Technologies, a top Salesforce consulting company, also provides Salesforce automation services. They have an abundance of experience in industries like Salesforce for health care, retail, retail estate, etc. Manras can help you transform your enterprise digitally through their Salesforce business process automation tool, Salesforce Flow. Its Salesforce business process flow builder is built using logic through the means of a universal code and can automate complex processes with ease.