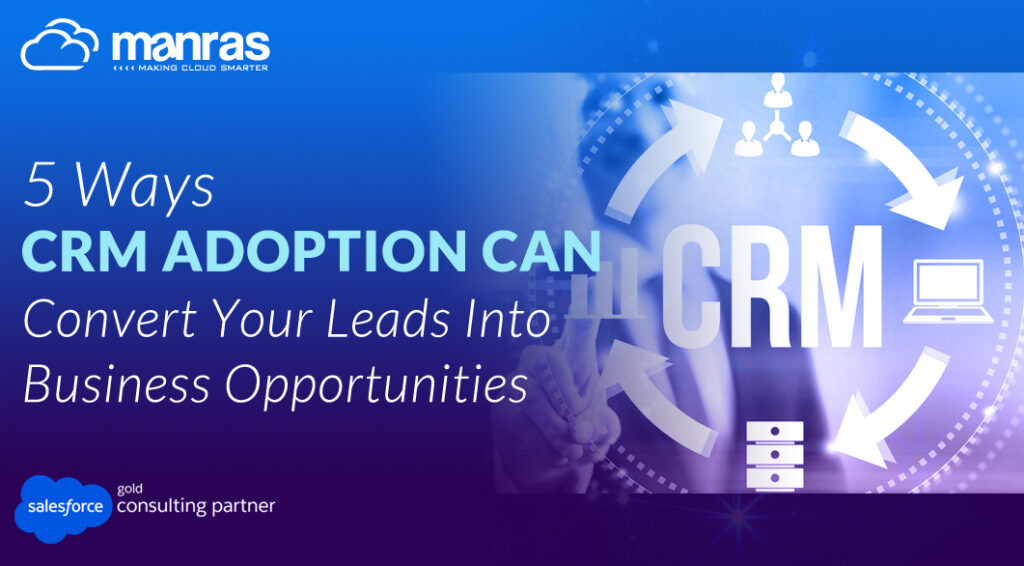 5 ways CRM Adoption can Convert Your Leads into Business Opportunities
Many organizations adopt CRM software to manage their customer relationships and boost the overall business. A good CRM software such as Salesforce works across the organization and connects its different processes with customer data. This helps them in understanding the current and prospective customers better and providing them with a positive customer experience. CRM improves the efficacy of all functions including sales and marketing. It helps the company in identifying high-quality leads and fulfilling the customer's needs. With its improved marketing and sales efforts, a company can target customers with precision and increase their profitability.
How CRM software can turn leads to opportunities?
Every organization relies on its sales and marketing team to lead the way in boosting business. The sales and marketing team aims to create successful strategies with the help of promotional tools that generate meaningful leads. Most organizations are sitting on heaps on unorganized customer data. CRM software organizes the customer information and uses it to understand the customer in order to improve its sales and customer service. Similarly, CRM helps in identifying high quality leads by using a rank-based system based its data-driven insights. In this way, the intuitive abilities of a CRM software result in more lead conversions. This also impacts the business profitability favorably as the company does not waste time and money in following leads that would not result in sales.
Here are the 5 ways in which a CRM software can convert leads into opportunities and thereby improve sales conversions.
Enhanced speed with an intuitive CRM tool
A company's promotional campaigns garner eyeballs and generate leads resulting in a traffic influx. It is important to touch base with prospective buyers when the lead is still warm. These potential customers also look at other brands simultaneously and will not wait much for a reply. This is where the autoresponder feature of CRM software helps. Secondly, CRM's lead source effectiveness report can help companies deduce leads from which sources generate the most revenue. Finally, CRM evaluates the quality of leads based on a scoring system defined by the company for different parameters such as gender, location, etc. All of this can help the sales representatives in focusing on those leads first which have a higher chance of conversions.
Standardised approach to communication with no scope of a miss
Selling a product or service requires a strategic approach towards communication. Choosing the right communication method helps in getting in touch with prospective customers in a way that is most convenient to them. For example, a customer who does not want to take calls might prefer to be contacted via email. Regular communication also lets them see your presence continuously. The content of the communication is also crucial. The right closing lines in an email may lead to closing a sale. Salesforce CRM allows sales representatives to send personalised communication to the customers from a library of marketing approved templates. These messages can be sent by a desktop or Salesforce's mobile app.
Refined marketing with data-driven decision-making
For large organizations, keeping track of customer information and buying patterns requires them to deal with copious amounts of data. CRM systems enable organizations to store, organize, and analyse this data. CRM also generates reports on campaign effectiveness, enabling companies to choose the most effective outreach tactics. It uses different marketing tools to create email campaigns, landing pages, contact forms, etc to ensure that the customer continues moving to the next stage. In this way, it helps convert leads into opportunities. Organizations can create better marketing strategies to target their customers by using the marketing insights garnered from CRM tools. Companies can then precisely target their customers with better products and the right communication mix.
Better customer data integration
CRM software integrates an organization's customer data with its various processes. Salesforce's Customer 360 creates a unified customer view by joining the fragmented customer data scattered across company processes. By doing so, it assists the company representatives to give an integrated customer experience at scale. Customer 360 goes beyond the traditional customer data platforms and extends the benefits of CRM to an organization's day-to-day consumer interactions.
Improved customer retention
CRM allows customer service professionals to have detailed information on a customer's interactions with the company. They can see who has serviced the customer in the past and for what purposes. This helps them in assisting a customer better. Such a personalised approach boosts customer satisfaction. In the case of customer churn, CRM software can help management keep tabs on customer churn through its regular reports. It can also send targeted products and related communication to the customers in an effort to retain them thereby leading to higher retention.
There are many CRM solutions for organizations to choose from. In order to adopt CRM software, a company can take the help of vendors who specialise in it. Salesforce is one of the frontrunners in the field of CRM technology. Manras Technologies is a Gold Salesforce Consulting Partner with a rich experience of providing strategic guidance to companies, enabling them to get a 360-degree view of their customers. It implements a range of Salesforce services for its clients such as Salesforce Sales and Services Cloud, Community Cloud, Marketing Cloud Services, etc. Not only does Manras deploy customised CRM solutions for its clients, but it also offers expert support to them for maximising their CRM investments.
CRM is at the heart of a growing business. Adopted by companies of different sizes, CRM software has many benefits which ultimately help a company convert its sales leads into opportunities by aligning its different platforms along with customer data. CRM brings in personalisation and speed in various sales and marketing efforts. This leads to an evolved customer service program, automated marketing, accuracy in customer relationship management, and positive customer experience. With its many benefits, CRM software improves the sales process and impacts a customer's journey with the brand positively.