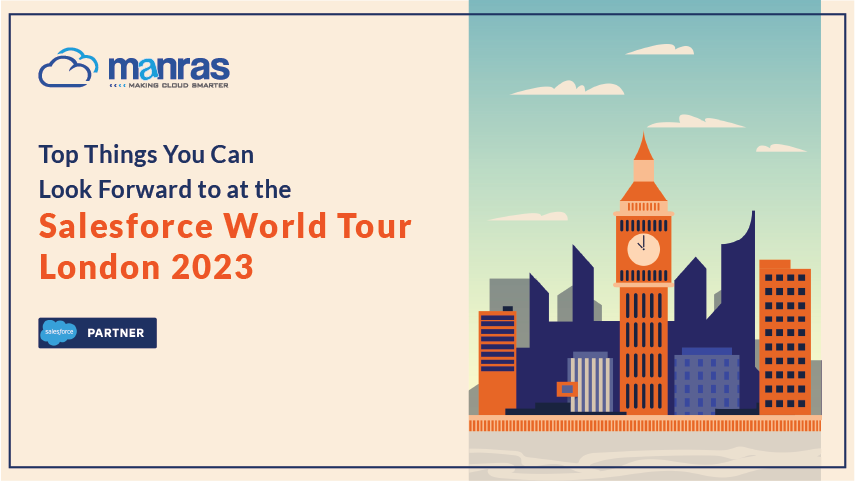 Top Things You Can Look Forward to at the Salesforce World Tour London 2023
As the countdown to Salesforce World Tour London 2023 begins, professionals from diverse industries and backgrounds are buzzing with excitement. This highly anticipated global event is renowned for its unparalleled networking opportunities and groundbreaking technology showcases, making it a truly unforgettable experience. Whether you're a Salesforce user, a business leader, a developer, or an aspiring trailblazer, Salesforce World Tour London 2023 has something extraordinary in store for you.
In this blog, we will delve into the top highlights that await you at Salesforce World Tour London 2023, igniting your anticipation for this remarkable event.
What is the Salesforce World Tour London 2023?
The Salesforce World Tour London 2023, scheduled for June 29, is an integral part of the global Salesforce World Tour event series. It brings together professionals from diverse industries, roles, and expertise levels to explore the full potential of the Salesforce platform.
The event features keynote speakers who are industry experts, delivering thought-provoking sessions on topics like CRM best practices, data-driven decision-making, AI-powered innovation, and customer-centric strategies.
Additionally, the World Tour London 2023 includes technology showcases where product and technology vendors demonstrate real-world applications for the Salesforce platform.
Salesforce World Tour London 2023: Top Highlights
Here are the top things to look forward to at World Tour London 2023:
Interactive Workshops and Seminars:
Immerse yourself in a wealth of knowledge through interactive workshops and seminars at Salesforce World Tour London 2023. Explore over 250 sessions run by industry professionals where you can learn about things like CRM best practices, data-driven decision-making, AI-powered innovation, and customer-centric strategies. These engaging sessions cater to various roles and expertise, ensuring valuable insights and practical takeaways.
Innovative Technology Showcases:
Discover the latest technological advancements and witness cutting-edge solutions during the innovative technology showcases at World Tour London 2023. With over 40 product demos available, you can get hands-on experience with the latest Salesforce solutions and partner offerings. Explore new tools, integrations, and applications on the Salesforce AppExchange that can revolutionize your organization's operations and drive digital transformation.
Sales Keynote:
Gain valuable insights, strategies, and best practices from the dedicated sales keynote session. Maximize the potential of the Salesforce platform by learning about pipeline management, forecasting, and customer engagement techniques that drive sales success.
Salesforce Genie and Customer 360:
Discover the capabilities of Salesforce Genie, a real-time personalization platform, and its integration with the Customer 360 suite of Salesforce tools. Gain in-depth knowledge through detailed presentations, live demos, and interactive discussions on creating personalized customer experiences.
Networking opportunities at Salesforce World Tour London 2023
This global event attracts a diverse audience from various industries, backgrounds, and roles, providing ample opportunities to forge meaningful connections. Here's a glimpse into the networking opportunities at World Tour London 2023:
Salesforce Users and Administrators
World Tour London 2023 provides an opportunity to connect with fellow Salesforce users and administrators, exchange best practices, and gain valuable insights to optimize your Salesforce implementations. You can expand your network and stay updated on the latest trends and innovations in the Salesforce community.
Business Leaders and Decision-Makers
Network with influential business leaders and decision-makers to explore how Salesforce can drive growth and digital transformation. You can converse about industry trends, customer success stories, and strategic CRM decisions while expanding your professional network.
Salesforce Developers and Consultants
Collaborate with talented Salesforce developers and consultants, share insights, and learn best practices in development and consulting. World Tour London 2023 paves the way for you to Build connections that can lead to exciting opportunities for collaboration or potential client engagements.
Trailblazers
Connect with passionate Salesforce Trailblazers during the World Tour London 2023 and exchange techniques, strategies, and success stories. Discover new ways to use Salesforce in your workflows and data management strategies by drawing inspiration from their journeys.
Salesforce Partners and ISVs
Engage with independent software vendors (ISVs) and Salesforce partners, explore innovative products, build relationships, and discover collaboration opportunities within the Salesforce partner community. 
Prospective Salesforce Customers
Gather insights from existing customers, partners, and Salesforce professionals to assess whether Salesforce fits your organization's needs. Learn about the platform's benefits, capabilities, and real-world success stories while connecting with experts who can guide your decision-making.
Conclusion
Salesforce World Tour London 2023 promises to be a transformative experience for professionals across industries, offering many opportunities to learn, network, and explore the latest innovations in the Salesforce ecosystem. From engaging keynote speakers to interactive workshops and seminars, attendees will gain invaluable insights and practical knowledge to drive their organizations forward in the new era of digital business.
As you navigate this dynamic event, don't miss the chance to connect with Manras, a certified Salesforce consultant specializing in CRM implementation. Manras can guide you on your journey to leverage the full potential of Salesforce, helping you streamline processes, enhance customer experiences, and achieve your business goals. Meet us at Booth #247. You can confirm your meeting with us at Salesforce World Tour London 2023.