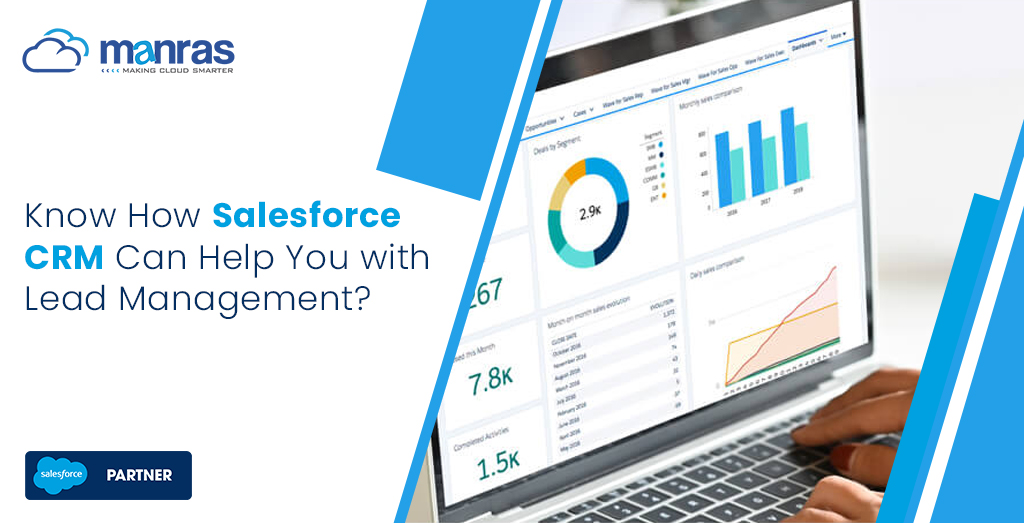 Know How Salesforce CRM Can Help You With Lead Management?
The key to any successful company is an effective sales pipeline. Maintaining customer relationships is vital for this. Cultivating good relations with customers results in better lead conversions. For the sake of capturing leads from their existing ones, sales managers use powerful modern lead management tracking solutions. They can help in refining customer relationships and drive leads to fruition. One of the most popular tools used in the Salesforce customer relationship management (CRM) system. But before we move on to its use, let's understand why you need a lead management system.
Why Do You Need a Lead Management System?
Managing leads manually can be hectic and complex. This is especially true for a company going through a transition. As the number of leads starts increasing, the use of old systems may not be enough. This can lead to forgotten tasks or lack of reach-backs for a period which can, in turn, lead to loss of sales opportunities. 
On the other hand, using modern lead management software can help your company by leaps and bounds. Modern systems are capable of effectively collecting information and analyzing it. Equipped with this information, businesses can save hours of work per employee every week. The need for manual data entry and communication with customers can easily be eliminated. Additionally, you can also confirm whether the data collected is accurate or not.
Lead management systems come with several tools to get things done. One of their better features is their ability to automatically manage communication flow. They ensure that communication with each lead is taken care of so that no user falls through the cracks. Salesforce Lead management systems also provide useful insights and recommendations to improve customer relationships by analyzing information and data in your system. 
Most lead management tools can also be easily integrated with other applications in your stack. As a result, your company will be able to bridge data points from multiple customers. This can be a huge help to your marketing and sales team and can give you an edge over your competition.
Lead Management Through Salesforce CRM
Salesforce CRM is a very efficient tool when it comes to lead management. Salesforce gives you a detailed view of several aspects of lead management. From lead creation to follow-up and conversion, it can easily take care of them all. The various ways in which Salesforce CRM platforms help in lead management are.
Lead Capture
Before you start, you need to find the right kind of customer. Without a CRM system, converting general customers to leads is going to be a difficult task. Even once you do manage to sort out the right customers, it can be resource-consuming to stay on them manually. Time is of the essence, and if a connection is not established, you might never capture a lead. Salesforce CRM connects with your marketing tools like email and social media and identifies the customers most likely to be turned into leads. From there, your marketing team can make targeted campaigns and turn prospects into customers.
Helps Build More Sustainable Relationships
Salesforce CRM helps you understand your customer. It gives you a complete view of their history with your business and helps you make strong connections based on mutual trust. It helps you identify and explore challenges, engage with your customers and scale your one-to-one relationships. By improving your relationship with your customers, you will likely be perceived more positively, and your missives will be received warmly. This will ensure that your lead management process remains unperturbed.
Increase Lead Conversion
Salesforce CRM is quite helpful in helping you keep up with your leader's journey. With this, you can stay with your customer from the moment they come into the moment they become actual customers. It also helps give businesses an idea regarding how much time it will take for a lead to become a paying customer. This can help your marketing team understand whether their methods are working or not.
Provide Better Customer Service
Even the best product is as good as the customer service that backs it. Don't bombard your leads with promotions that will annoy them. Hit them after a sale, and you will waste your time and effort. With Salesforce CRM, your team will have access to a customer's data and will be able to provide personalized messages. This can help you build smoother interactions with your customers and encourage your leads to repeat business. With Salesforce CRM, you can increase customer satisfaction by up to 35%.
Improve Lead Retention
A better understanding of your relationships can help your team actively address leads at risk. It also helps your team present your satisfied leads with new offers at the right time. With a great amount of customer data, you can provide your leads with better service that keeps them hooked. By using Salesforce CRM partner tools, you can have insights into your customer's needs and provide them with promotional offers.
Conclusion
To thrive and grow in an already saturated market, businesses need to provide the best service to their customers. Salesforce CRM helps companies achieve such goals. It can help companies regardless of their size. By providing up-to-date real-time information on your progress with your customer, you get a clear overview of your position. Though they've traditionally been used as a marketing tool, their lead management capabilities cannot be ignored. With Salesforce CRM implementation, your business remains at the frontline of innovations and builds long-lasting relationships with your leads. 
Manras Technologies is a leading provider of Salesforce solutions. With our certified team of Salesforce consultants, we intimately understand your requirements and provide you with the best services. At Manras, we provide autonomous, advanced, and cloud-based CRM services that allow you to engage with information in real-time. Our CRM solutions can help you leverage your business interests and actively achieve your targets. As a result, your business will always stay well ahead of the curve.