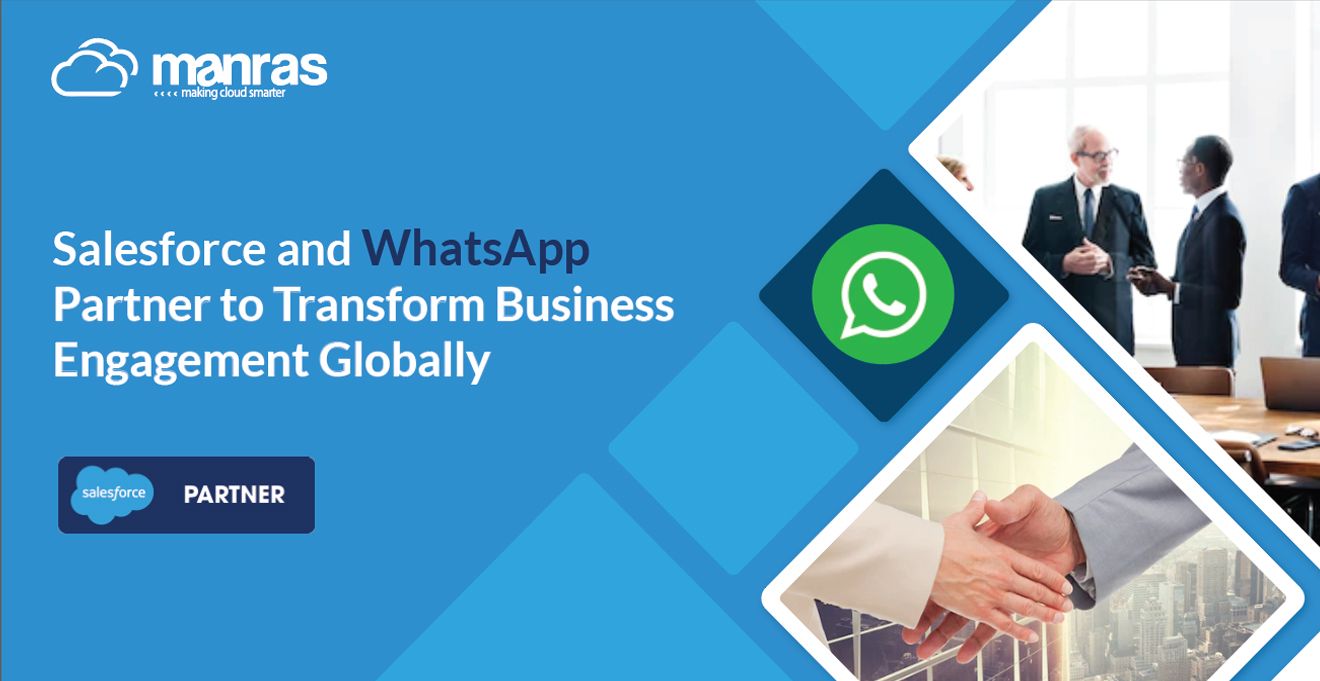 Salesforce and WhatsApp Partner to Transform Business Engagement Globally
You possibly cannot remember the last day you went without using WhatsApp, and there's a possibility that you might have just sneaked a peak a couple of minutes before reading this article. What happens when the number one CRM software gets in synergy with the largest and the most widely used messaging platform? You are right, the possibilities are limitless. Customer relationships will never be the same again and they are going to change (and for good).
Dreamforce 2022 changed our wildest thought into reality when Salesforce and WhatsApp announced a strategic partnership between the two giants, as overwhelming as it might be for businesses, the experts are immensely excited too and they are calling it the most awaited and the most revolutionary partnership in the world of CRM. This partnership will enable brands to transform their relationships with customers across billions of conversations by introducing personalized messaging for every customer at a scale. This will not only just engage customers and make your brand more lively, but this will also be an amazing tool to boost sales, after-sales service, and all-day round customer support, and just transform the whole customer experience holistically.
WhatsApp messaging will no longer be just another form of communication for brands but a canal to craft an end-to-end customer journey ensuring the highest level of personalization possible. Brands will be able to fuel these interactions with first-hand data collected at different nodes of interaction, power them with the best AI tools presented by Salesforce and then use all the data in hand to present customers with a rich and seamless customer experience.
Manras has been on a mission to empower businesses to make the most of their data and make the most of the available resources and tech with its innovative solutions. With our experience of serving hundreds of clients over 7 years and being a Platinum Partner of Salesforce, we surely can make lemonade when life throws lemons your way. One such product that we have forged in-house is Communicat-O.
With WhatsApp coming up as a strong pillar for relationship management, it is very vital that brands secure all their eggs across baskets by also paying considerate attention to other messaging platforms. This is where Communicat-O steps in, it is a social media engagement tool that brings all your messages across all social media platforms under one inbox, lets you bulk message, generate reports, schedule campaigns and so much more.
With a UI as smooth as butter, it ensures that users can easily adapt to the functionality without the hassle of juggling between multiple screens. Communicat-O readily supports smooth integration with SMS, Whatsapp, Line, Telegram, Wechat, Facebook Messenger, Instagram, Twitter, and Viber. If there's a name that we might have missed, we are not leaving you worried as Manras' engineers take pride in the fact that they can add and configure any channel that provides API support in less than 5 days. That's not all, Communicat-O also supports Sales Cloud, Service Cloud Platform, Community Cloud, and Pardot Marketing Cloud with out-of-the-box setup.
With the breaking of this news of the major partnership between WhatsApp and Salesforce, it is about time that brands reevaluate their communication strategy and Salesforce CRM as it is no more a luxury but a necessity for customer-centric businesses, and while you are doing that you would not want to miss out on Communicat-O as it completes the cake by being the cherry on the top.
We would love to show you around and answer your questions, please feel free to drop us a 'hi' at team@communicat-o.com and give us a chance to show you our communication strategy, uff, we mean hospitality.