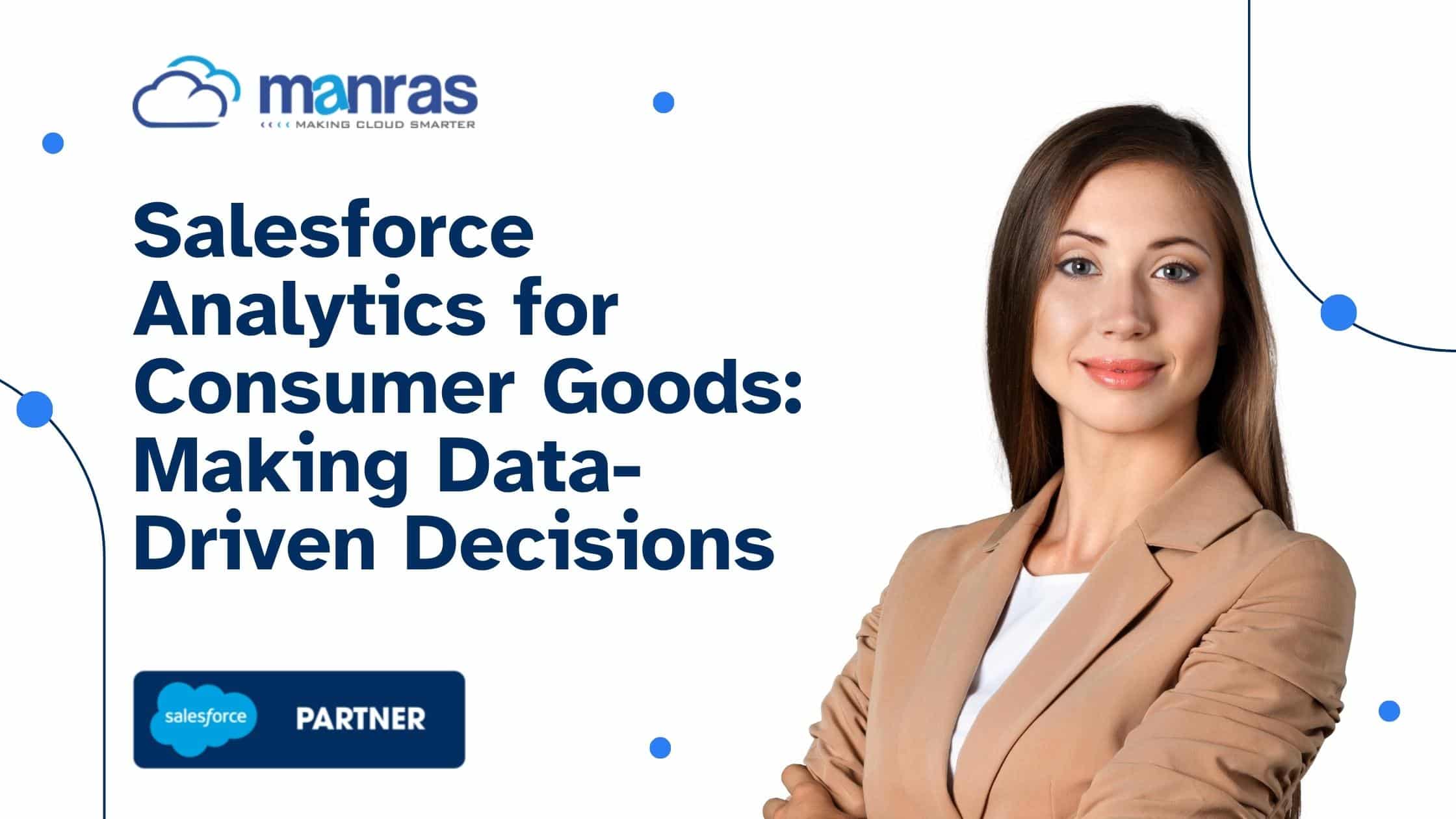 Salesforce Analytics for Consumer Goods: Making Data-Driven Decisions
In today's fast-paced business world, making informed decisions is crucial, especially in the consumer goods industry. The ability to harness data-driven insights can significantly impact a company's success. Salesforce Analytics has emerged as a powerful tool to help consumer goods companies gain a competitive edge by enabling them to make data-driven decisions.
The Role of Analytics in Consumer Goods
The consumer goods industry is inherently dynamic, with ever-changing consumer preferences and market trends. To thrive in this environment, companies need to adapt quickly. This is where analytics comes into play. Analytics provides a clear view of customer behavior, market trends, and product performance, helping businesses adapt and make informed decisions.
One of the key aspects of analytics in consumer goods is the need for real-time insights. With Salesforce Analytics, businesses can access up-to-the-minute data, enabling them to react swiftly to market changes and customer demands.
Benefits of Salesforce Analytics
Improved Sales Forecasting
Salesforce Analytics allows companies to analyze historical sales data and create accurate forecasts. This helps in optimizing inventory levels, ensuring products are available when customers want them. By reducing overstock and stockouts, companies can improve their bottom line.
Enhanced Customer Satisfaction
Understanding customer behavior and preferences is vital for consumer goods companies. Salesforce Analytics helps companies analyze customer data to provide personalized experiences and recommend products that match individual preferences. This, in turn, leads to increased customer satisfaction and loyalty.
Efficient Inventory Management
In the consumer goods industry, inventory management is a critical aspect of operations. Through Salesforce Analytics, businesses can track inventory levels, monitor product shelf life, and minimize waste. This not only reduces costs but also ensures products are always fresh and available.
Implementing Salesforce Analytics
Implementing Salesforce Analytics in the consumer goods industry requires careful planning. It involves setting up the system, integrating it with existing data sources, and customizing it to suit the specific needs of the business. Companies can work with Salesforce consultants to ensure a smooth transition and maximize the benefits of analytics.
Real-Life Use Cases
Success Stories of Using Salesforce Analytics
Numerous consumer goods companies have benefited from Salesforce Analytics. One such example is a beverage manufacturer that used analytics to analyze sales data and identify the most popular products. By focusing on these products, they saw a significant increase in sales and reduced waste. This success story highlights how analytics can drive strategic decisions.
How it Transformed Decision-Making
By harnessing the power of data-driven insights, companies can make decisions that are more informed and strategic. This has a cascading effect throughout the organization, leading to more efficient operations and ultimately higher profits.
Overcoming Challenges
Implementing Salesforce Analytics may come with challenges. Some common obstacles include data integration issues, user adoption, and data security concerns. However, with the right strategy and support, these challenges can be overcome. Businesses can invest in employee training and data security measures to mitigate potential risks.
Future Trends
As technology continues to evolve, the future of analytics in the consumer goods industry looks promising. AI and machine learning are likely to play a more significant role in predictive analytics, enabling companies to stay ahead of market trends. Additionally, the use of IoT devices for data collection is expected to grow, providing even more insights into consumer behavior.
Conclusion
Salesforce Analytics is a game-changer in the consumer goods industry, allowing companies to make data-driven decisions that enhance sales, customer satisfaction, and efficiency. With real-time insights and success stories showcasing its impact, Salesforce Analytics is a must-have tool for any consumer goods business looking to thrive in a competitive market.

As Manras, a Salesforce Platinum Partner, we understand the unique needs of the Consumer Goods industry. Our expertise in Salesforce Analytics can help your business harness the power of data-driven decisions. With our tailored solutions, you can optimize your operations, boost sales, and enhance customer satisfaction. Let us be your trusted partner on the journey to success in the ever-evolving world of Consumer Goods.
Frequently asked questions
What is Salesforce Analytics, and how does it benefit the consumer goods industry?
Salesforce Analytics is a tool that helps consumer goods companies analyze data to make informed decisions, leading to improved sales, enhanced customer satisfaction, and efficient inventory management.
Can small consumer goods businesses also benefit from Salesforce Analytics?
Yes, businesses of all sizes can benefit from Salesforce Analytics. It offers scalable solutions tailored to the needs of individual companies.
What challenges should companies be prepared to face when implementing Salesforce Analytics?
Common challenges include data integration issues, user adoption, and data security concerns. However, these can be overcome with the right strategies.
How does Salesforce Analytics stay relevant in a constantly changing consumer goods industry?
Salesforce Analytics adapts to evolving trends and technology by incorporating AI, machine learning, and IoT devices to provide more comprehensive insights.