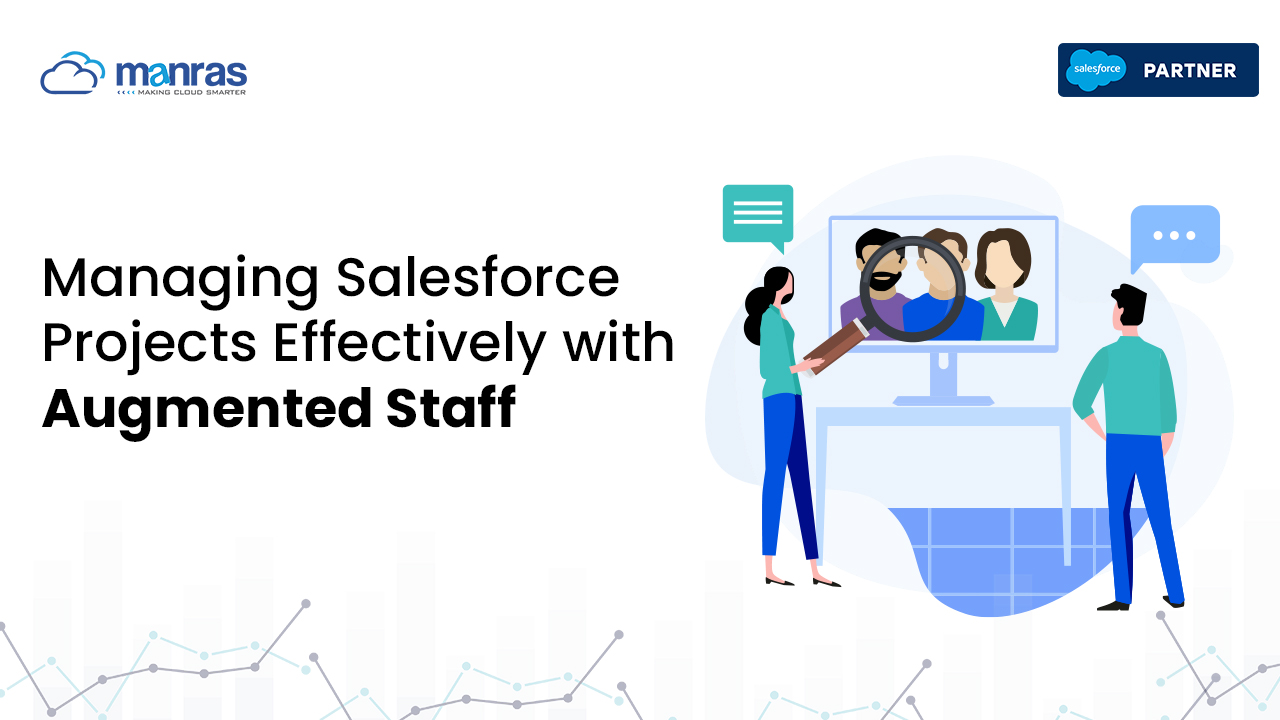 Managing Salesforce Projects Effectively with Augmented Staff
In today's fast-paced business environment, managing Salesforce projects effectively is crucial for companies to stay competitive and ensure customer satisfaction. Augmented staff, or external professionals with Salesforce expertise, can be a valuable asset in achieving project success. In this article, we will explore the benefits of using augmented staff and provide actionable insights on how to manage Salesforce projects efficiently.
The Power of Augmented Staff in Salesforce Projects
Resource Augmentation: 
Augmented staff brings a wealth of expertise to your Salesforce project. They have a deep understanding of Salesforce's capabilities, gained through hands-on experience and specialized training. This expertise empowers them to offer valuable insights, best practices, and guidance, ensuring your project benefits from the latest industry knowledge.
Scalability: 
Scalability with staff augmentation means you have the flexibility to adapt to changing project demands effortlessly. Need extra hands during a busy phase or for a short-term project? Augmented staff can quickly step in to meet your needs. Their versatility ensures your project stays on track and within budget, regardless of fluctuations in workload.
Cost-Effective Solutions: 
The cost-effectiveness of staff augmentation is a game-changer. Instead of committing to the long-term expense of hiring in-house experts, you can tap into the specific skills you need for the duration you need them. This cost-efficient approach allows you to allocate resources where they matter most, optimizing your project's budget and overall efficiency.
Faster Project Execution: 
Speed is of the essence in today's competitive business landscape. Augmented staff are already well-versed in Salesforce, so there's no steep learning curve. They seamlessly integrate into your project, hitting the ground running. This swift project execution not only saves time but also accelerates your project's time-to-market, giving you a critical edge.

Managing Augmented Staff for Salesforce Projects
Setting Clear Objectives: 
Clear objectives serve as the guiding stars for your Salesforce project. By defining precise goals and deliverables, you provide a roadmap for augmented staff. This alignment ensures that everyone is working towards a common purpose, keeping the project on track and focused on the desired outcomes.
Effective Communication: 
Open and effective communication is the backbone of project management. Establishing regular check-ins, ensuring expectations are well-communicated, and providing a channel for feedback is crucial. This open dialogue between your in-house team and augmented staff fosters transparency and minimizes potential misunderstandings, enhancing overall project efficiency.
Collaborative Environment: 
Fostering a collaborative environment is more than just a buzzword; it's a key driver of project success. When your in-house team and augmented staff work together seamlessly, knowledge-sharing thrives. Teamwork flourishes, resulting in innovative solutions and a unified approach to overcoming challenges, ultimately leading to a more successful project.
Monitoring Progress: 
Regularly monitoring project progress is essential to stay on top of your project's health. Timely identification of roadblocks or issues allows for prompt resolution. Integrating augmented staff into your project management processes ensures that everyone is aligned in monitoring progress and can swiftly address any challenges that arise.
Tools and Technologies: 
Investing in the right tools and technologies is paramount for effective collaboration and productivity. Salesforce offers a suite of project management solutions that can streamline your workflow, providing the necessary infrastructure for augmented staff to perform at their best, while also improving the overall project's efficiency.
Measuring Success
Key Performance Indicators (KPIs): 
Key Performance Indicators (KPIs) are your compass for measuring the success of your project. User adoption rates, Return on Investment (ROI), and customer satisfaction metrics are among the KPIs that can help gauge your project's effectiveness. Utilizing these KPIs allows you to make data-driven decisions and track the impact of your project on your business.
Continuous Improvement: 
Continuous improvement is a cornerstone of long-term project success. Regularly evaluating your projects, seeking areas for enhancement, and implementing changes based on insights from your augmented staff's experience ensures that your Salesforce initiatives remain agile and adaptable, staying ahead of industry changes and customer expectations.
Conclusion
Managing Salesforce projects effectively with staff augmentation is a strategic move that can lead to better project outcomes. Leveraging their expertise, scalability, and cost-effectiveness can make a significant difference in your project's success. By setting clear objectives, fostering effective communication, and monitoring progress, you can ensure that your Salesforce project reaches its full potential.
On-demand resources, such as the ready-to-hire resources we provide at Manras, as a Salesforce Platinum Partner, offer Salesforce staff augmentation services that seamlessly integrate top talent into your projects. Unlock the true potential of your Salesforce initiatives with our expertise, empowering your business to thrive in the dynamic CRM landscape.
Frequently Asked Questions
What is augmented staff in the context of Salesforce projects?
Augmented staff refers to external professionals with Salesforce expertise who are temporarily integrated into your project team to provide additional support and expertise.
How can augmented staff benefit Salesforce projects?
Augmented staff can provide expertise, scalability, cost-effective solutions, and faster project execution, ultimately improving project outcomes.
What are some key tips for managing augmented staff effectively in Salesforce projects?
Effective management includes setting clear objectives, ensuring open communication, creating a collaborative environment, monitoring progress, and measuring success through KPIs.
Are there specific tools and technologies recommended for managing Salesforce projects with augmented staff?
Salesforce offers various project management solutions that can enhance collaboration and productivity, making it easier to manage augmented staff effectively.
What should companies do to ensure the ongoing success of their Salesforce projects?
Continuous improvement is crucial. Companies should regularly evaluate their projects, seek areas for enhancement, and implement changes to optimize their Salesforce initiatives.