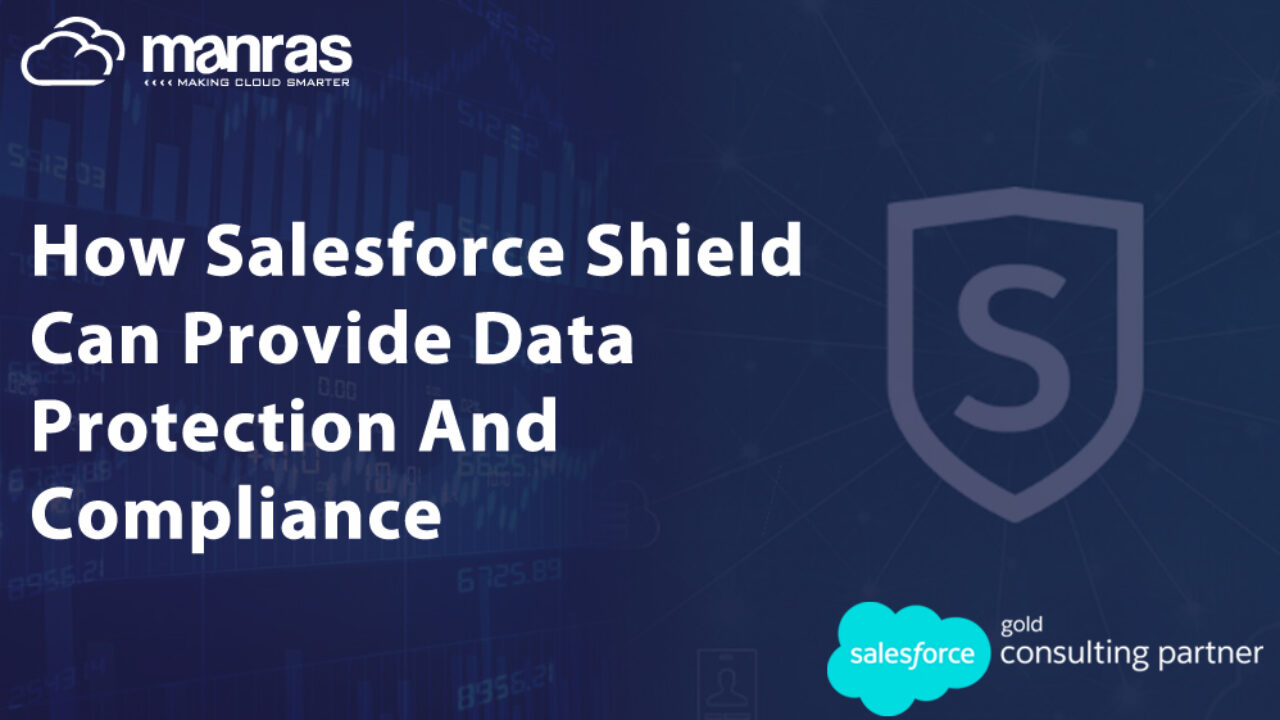 How Salesforce Shield Can Provide Data Protection and Compliance?
Research suggests that cybercrime is the most lucrative crime globally; more profitable than all global drug trade put together! This has resulted in several regulations and compliance standards being established by local, national and international authorities across the globe. Fortifying data security and protecting the privacy of users is not just about fulfilling the requirements of these regulation and compliance standards, but about user (customer/ employee/ other stakeholder) trust. So, a data breach is a gross violation of their trust, even when data is collected and used with permissions from individuals as mandated by law.  
According to an IBM Study, the global average cost of a data breach is USD 3.92 million as of 2019 which includes not just financial costs (post-incidence response cost, escalation costs, penalties, etc.) but also reputational costs (as the business will face immense erosion of brand image, reputation and goodwill). This has made data privacy and data protection are the most challenging and critical business concerns of today.  
Despite the scary numbers, the cloud adoption rate and trust in cloud-based products and solutions have only seen an increase over the past few years. The increase in trust and adoption of the cloud is often attributed to forward-thinking organizations like Salesforce. This is because organizations like Salesforce which only offer cloud-based products and solutions equip their enterprise clients with robust features to ensure heightened data security to businesses and in turn, their customers.
How Does Salesforce Ensure Trust, Data Protection and Compliance?
To fortify the security of the Salesforce org and to enhance trust and compliance, Salesforce offers a wide array of power-packed features.
Salesforce Trust: A customer-facing website, Salesforce Trust, provides the Salesforce Community with information and insights on system performance and security status. Users get access to information and updates on malware and phishing attacks, as well as, remediation methods to mitigate risks. 
Salesforce and Compliance: Salesforce maintains a large set of rigorous compliance certifications and attestations including ISO 27001/27018, GDPR, HIPAA, PCI-DSS, SOC 1, SOC 2, Safe Harbor, etc. to validate the core value of trust. Using a shared security model for data privacy and security, Salesforce provides technical and physical security to regulated data while requiring customers to be accountable for the type of data collected and its usage, quality and integrity. 
Security Health Check: This is one of the most powerful and beneficial tools for a Salesforce Administrator. It empowers administrators with a summary score to gauge the strength of their configuration settings from a security standpoint when compared to recommended baseline settings. This security score is a combination of factors like password strength, invalid login attempts, session timeout, forced re-logins, etc. Security Health Check enables administrators to cohesively identify and remediate vulnerabilities in security settings. 
Unique Identifiers for Each Session: Being a multi-tenant platform, Salesforce ensures that none of its customers can access another's Salesforce instance, even accidentally. This is made possible by giving unique identifiers to each of its clients. These identifiers, then on, get associated with each session initiated by a user within the client company.  
In-built Security Features: Salesforce offers several in-built features that empower administrators to secure their data against internal and external threats. The platform also provides immense flexibility to administrators to implement controls based on the sensitivity of data. Two of the most critical features are auditing and robust access control.
Through the auditing feature, administrators can trace login attempts up to 6 months. By turning on the field history tracking, they can assess the value changes made on fields and the users who made it.
Through the range of access control options such as two-factor authentication, custom login flows, object-level permissions, role hierarchy, field level permissions, encryption, etc., administrators can effectively control who gets access to what data and what actions can be performed.
Through IP range restrictions, another important access control feature in Salesforce, administrators can effectively decide which users can login to the system, from where and when (time duration). This way, unauthorized access by unknown IP addresses and phishing attacks can be avoided.
Salesforce Shield: One of the newest offerings, Salesforce Shield, offers additional layers of security to Salesforce clients, admins, and developers.
Let us take a closer look at Salesforce Shield and how it helps businesses to immensely amplify security.  
What is Salesforce Shield?
Introduced in 2015, Salesforce Shield empowers enterprise clients with a trio of point-and-click tools to deeply strengthen trust, compliance, security, transparency and governance across their business-critical apps.
Distinguishing Features of Salesforce Shield to Strengthen Data Protection and Compliance
1. Platform Encryption
With enterprise clients increasingly using Salesforce to store confidential/ sensitive/ proprietary data and PII, maintaining confidentiality and privacy of such data to meet compliance standards has become essential. The Platform Encryption feature of Shield empowers administrators to encrypt all data at rest including data stored in fields and files being uploaded to Salesforce. This is done while retaining critical app functionality like search, workflow and validation rules. While the enterprise clients are provided full control over the encryption keys over the lifecycle of managing the key, it is still stored in the Salesforce environment. The clients also have full control over setting encrypted data permissions to prevent unauthorized users from accessing sensitive/ confidential data,
2. Event Monitoring
By providing visibility into security, user behavior and application performance, Shield enables administrators and security professionals to monitor, tune and optimize performance, user adoption, end-user experiences and security across apps. With Event Monitoring, all interactions can be tracked and visualized. Administrators get visibility into who, from where and when is viewing what critical business data. When event logs from Shield are combined with third-party app monitoring and data visualization tools, potential insider threats can be analyzed and identified.
3. Field Audit Trail
The Field Audit Trail feature of Shield dramatically expands tracking beyond the default capabilities provided by Salesforce's standard Field History Tracking feature. In Shield, field history can be tracked as far back as 10 years across contacts, leads, opportunities, custom objects, cases, etc. for 60 fields per object. In comparison, in standard Field History Tracking, field history can be tracked and retained for only 18 months up to 20 fields per object. It empowers enterprises to build a forensic data-level audit trail to know the state and value of data for any date, at any time, whether it is for regulatory compliance, internal governance, audit or customer service.
5. Single Sign-In
Salesforce Shield ensures that multiple devices do not login using same credentials at a time. When one device signs in using a credential, all other devices are logged out automatically.
Conclusion
Salesforce products and solutions, by design, are enabling enterprise clients to strengthen their security posture and build transparency, compliance, trust, security, data privacy and protection into business-critical apps. To understand how you can fortify the security posture of your Salesforce org, take expert help from a Salesforce Gold Consulting Partner like Manras now.