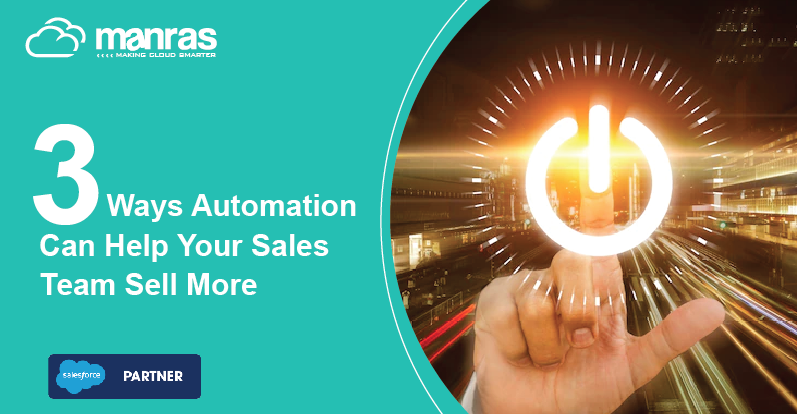 3 Ways Automation Can Help Your Sales Team Sell More
When it comes to making sales, having a staff that is convincing, successful, and, most importantly, efficient is essential. Having the interpersonal skills necessary to seal the deal is critical. However, a salesperson needs the ability to prioritize prospects, nurture the most promising ones, and let go of the rest. This is where state-of-the-art automated systems shine. Sales seem like a natural fit for software that can automate repetitive tasks, which is growing more and more widespread across many sectors and professions. 
Many crucial sales activities are boring, hard to monitor, and impossible to grow. These responsibilities are not excused from being performed by modern sales teams. Sales workflow automation, on the other hand, makes them noticeably simpler, which leads to a significant increase in efficiency.
If your sales staff is imploring you to invest in some kind of automation software, it's crucial that you learn why. The following are three ways in which sales automation may make a sales staff more efficient, and hence make your company more profitable.
1. Reduce Needless Data Input Like Sales Information And Customer Remarks
Manual tasks are the best candidates for your sales process automation. For instance, updating CRM records, syncing data inside your sales stack, making and tracking calls, following up, etc. Though necessary, you can't devote as much time and effort as you already are to these administrative duties.
The excellent thing is that automation may dramatically reduce the amount of data input that your representatives are required to perform, all without compromising the quality of the insights they get about their customers.
With the use of automated dialers and recorders, both incoming and outgoing calls can be logged into CRM systems, allowing sales representatives more visibility into employee productivity and enabling sales representatives with simple access to client data that can be used to clinch more deals. They function by revealing information about the call's reception, its length, and its outcomes.
There's more to sales automation than merely a simple addition for representatives who are drowning in data. Results are achieved by businesses that shield their sales representatives from unnecessary data input tasks. A study conducted by the research company McKinsey demonstrates that automating data input and lead management may enable sales agents to spend 15–20% more time selling, which ultimately results in a greater number of concluded agreements. 
2. Accelerate Lead and Opportunity Prioritization
If you don't choose the right leads to pursue, you might waste time and miss out on better ones. In order to meet their target, salespeople need to focus their time and energy on the offers that have the best possibility of closing. A recent Salesforce study shows that 9 out of 10 salespersons think up-to-date lead information helps decrease closing times.
The correct intelligence tools may help you prioritize leads by rating them according to the greatest possibility that they will close and then directing them to sales representatives along with essential lead information in order to speed up the sales process. Some solutions even enable you to set up automated dialing, allowing sales representatives to make quicker connections with potentially fruitful prospects.
3. Create Numerous Quotes And Proposals At Once
Though vital to the sales process, developing quotations and proposals requires substantial effort and focus. Manually tailoring each quotation from the start may be inefficient, especially for salespeople that deal with a high volume of potential customers with unique requirements. One further factor that might lengthen the time it takes to generate a quotation is the number of participating departments.
Tools for automating sales processes may be set up so that the sales and finance departments can quickly and accurately provide accurate quotes for each client based on the most recent details about the deal. Automating processes like quoting or proposing helps cut down on errors as well. Research conducted by McKinsey demonstrates that sales automation may help eliminate human mistakes while also cutting the amount of time it takes to create solicitations for proposals by approximately two-thirds.
Conclusion
Overall, automation is advantageous since it frees up your sales staff to concentrate on closing deals rather than doing administrative work. When your employees spend less time on administrative tasks, they have more time to focus on growing your business's bottom line. It's a win for everyone involved, including your sales staff and your clients.
Get in touch with Manras to arrange a no-cost consultation and see how sales automation tools may improve your company. One of the leading Salesforce consulting partners, Manras, can tailor Salesforce solutions to match the specific requirements of your business. Our salesforce experts will comprehend your requirements and work together with you to build an efficient plan that will contribute to the expansion of your business.