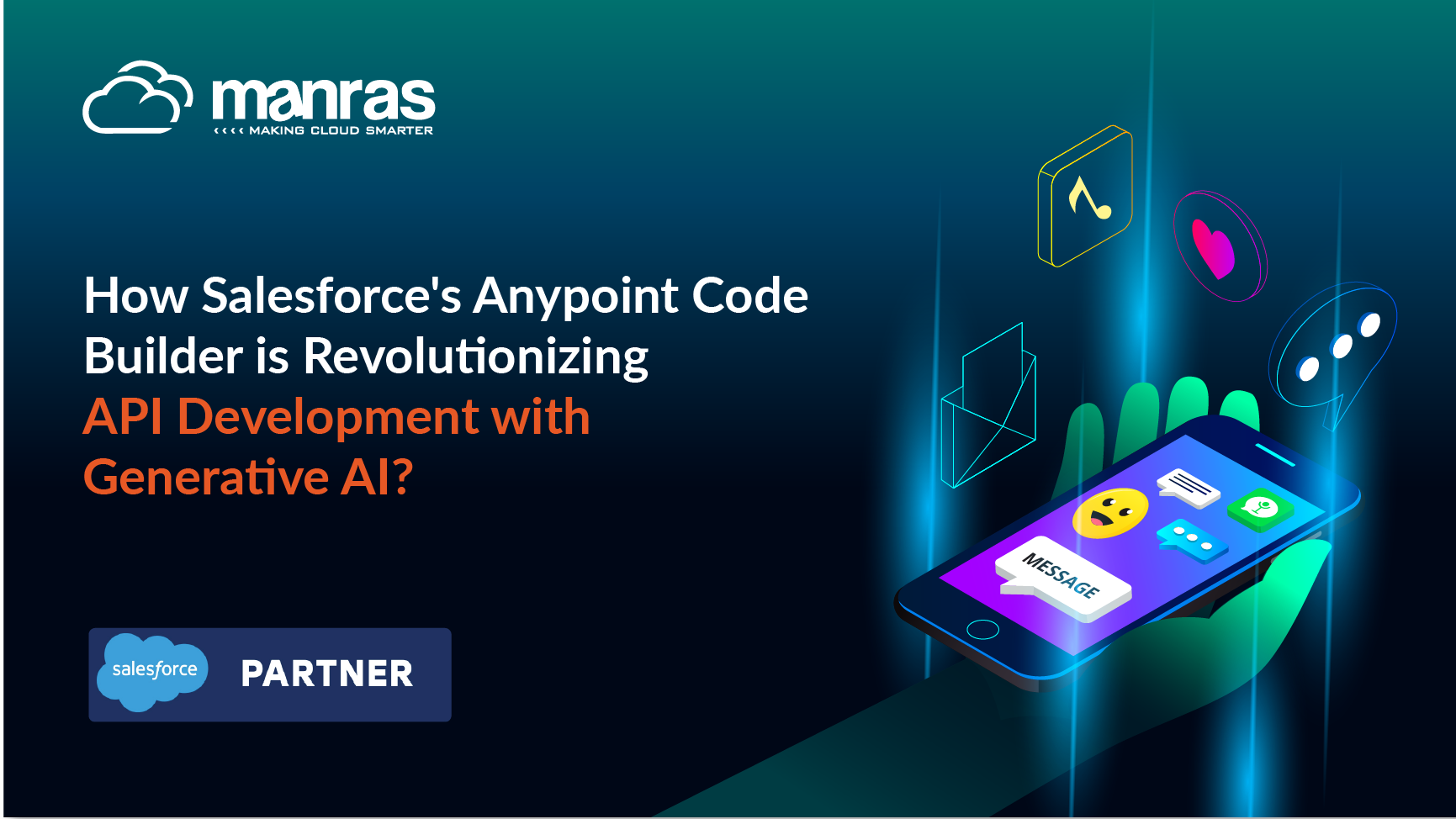 How Salesforce's Anypoint Code Builder is Revolutionising API Development with Generative AI?
Salesforce has introduced Anypoint Code Builder to assist developers in cost reduction and speeding up software development. This Anypoint  platform harnesses Generative AI in Salesforce for improved efficiency. It functions within the Anypoint Code Builder Integrated Development Environment (IDE), enabling developers to craft advanced APIs and integrations with state-of-the-art tools. 
In this article, we will take an in-depth look at the core Anypoint Code Builder features and how it significantly boosts automation in API Development. 
What is Anypoint Code Builder?
Anypoint Code Builder is a powerful integrated development environment that simplifies the process of API development and integrations using modern tools within Visual Studio Code.  
What makes it stand out is its exceptional capability to generate code by utilizing natural language prompts, minimising the necessity for manual coding. Additionally, it offers a flexible array of deployment environment options, making it suitable for both desktop and cloud-based IDEs, enhancing the overall development experience for programmers. 
How is Anypoint Code Builder Relevant? 
Anypoint Code Builder is highly relevant in today's business environment as it meets an essential requirement. With organisations striving to advance their digital transformation initiatives through software development, the integration of different systems has become a critical bottleneck, as reported by 80% of IT leaders. Moreover, 86% of these leaders anticipate that generative AI, a key component of Anypoint Code Builder, will soon assume a prominent role within their organisations. By employing AI-driven automation to streamline API development, the Anypoint platform becomes a pivotal solution for overcoming integration hurdles and expediting digital transformation efforts. 
Anypoint Code Builder Features
Having gained insight into the Anypoint platform, let's now explore how Anypoint Code Builder features contribute to the Automation in API Development: 
AI-Powered Development for Efficiency
Anypoint Code Builder revolutionises the development process by harnessing the power of AI, specifically through Einstein for Anypoint Code Builder. Using Generative AI within Salesforce, developers can effectively generate code and craft integration flows. These graphical representations simplify the connection between systems and applications, leading to significant time and effort savings. 
Comprehensive Developer Tooling for Speed
To expedite development tasks, Anypoint Code Builder offers an extensive selection of extensions. These extensions cater to various technology stacks and ecosystems, making it easier for developers to work with different tools and systems, resulting in faster development cycles. 
Flexible Development Environments Tailored to Your Needs
Recognizing the diverse preferences of developers, Anypoint Code Builder provides adaptable development settings. You have the choice between a desktop Integrated Development Environment (IDE) that smoothly integrates with Visual Studio Code and can be installed on your local machine. Alternatively, there is a cloud-based IDE accessible through any web browser. This adaptable approach ensures developers can work in an environment tailored to their individual needs and preferences. 
Tailored Industry-Specific Integration Solutions
Anypoint Code Builder accelerates industry-specific integration efforts through packaged solutions tailored to various sectors. These solutions streamline essential business initiatives, expedite implementation processes, and aid organisations in aligning with industry standards and best practices. 
What are the benefits of Anypoint Code Builder?
After exploring the extensive Anypoint Code Builder features, here are the array of benefits this Anypoint platform brings to the table: 
Enhanced Healthcare Coordination
Anypoint Code Builder plays a crucial role in significantly enhancing the healthcare sector by simplifying and streamlining the intricate process of integrating patient data across various EHR (Electronic Health Record) systems. This improvement leads to more efficient care coordination, ultimately resulting in better patient outcomes and overall healthcare quality. 
Facilitated Financial Data Sharing
In the financial services industry, Anypoint Code Builder plays a crucial role in enabling secure and regulated data sharing between financial institutions and fintech partners. This secure data exchange accelerates the development of innovative financial products and services, fostering financial sector innovation. 
Improved Retail Efficiency
Anypoint Code Builder's influence stretches into the retail industry, where it streamlines the process of integrating e-commerce platforms with inventory management systems. This streamlined integration enhances order fulfilment productivity, minimises errors, and ensures precise stock accuracy. Consequently, retailers can meet customer demands more effectively and enhance their operational efficiency. 
Conclusion 
Anypoint Code Builder emerges as a transformative solution in the landscape of API Development, offering dynamic features that not only streamline the development process but also cater to industry-specific integration needs. Its AI-powered capabilities, flexible development environments, and rich developer tooling make it a valuable asset for businesses across diverse sectors. 
For tailored and highly customised solutions, as well as expert guidance to fully unleash the potential of Anypoint Code Builder, you can confidently turn to Manras, a well-established and reputable Salesforce consulting partner. With our expertise and deep understanding of the Salesforce ecosystem, Manras ensures that organisations can fully leverage Anypoint Code Builder features to enhance their digital transformation initiatives and accelerate their journey towards a more efficient and connected future.