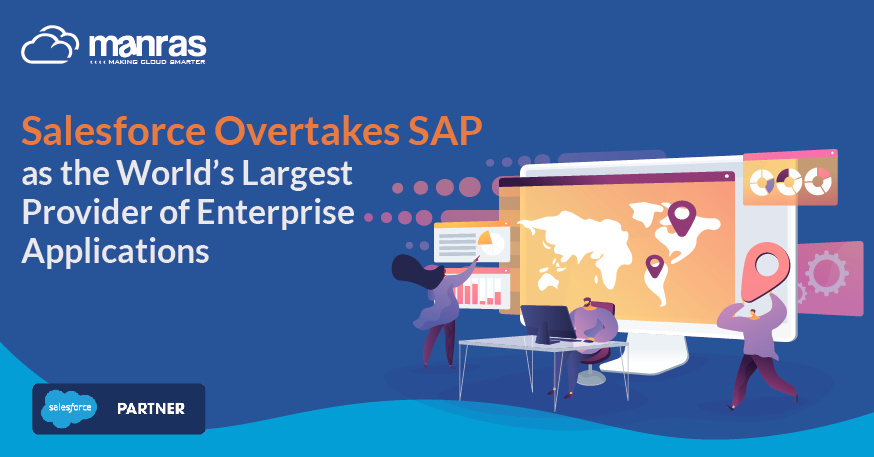 Salesforce Overtakes SAP as the World's Largest Provider of Enterprise Applications
The customer is king! We've all heard this adage, and it's what every business is constantly striving towards. While there are numerous CRMs to choose from, Salesforce and SAP are two of the top performers. Because both platforms are fantastic, with comprehensive and native functionality, choosing between them for your business might be difficult. People prefer Salesforce over SAP owing to superior performance and functionality.
Salesforce is a SaaS (Software as a Service) application, which means that any user may access it through the Internet without having to install the software on their computer. Salesforce centrally hosts this software licence and delivery strategy, which operates on a subscription basis. In contrast, SAP is mainly used to process data. SAP, the ERP software industry leader, is best recognised for creating enterprise solutions for managing corporate operations and customer connections. Any organisation can use a single SAP system as a core environment or central unit to enable quick data transformation into insights or predictive analytics.
Innovation does not always come in fancy new packaging carrying a new product or technology; sometimes, it is about a fresh viewpoint with a new way to address an old problem. Older platforms serve various company needs for years until they peak and are replaced by more cutting-edge, newer alternatives. This was ultimately true in the business software sphere when cloud-native Salesforce surpassed traditional vendor SAP to become the world's largest creator of enterprise applications. Salesforce dominated sales in the second quarter, beating SAP's $7.52 billion with $7.72 billion.
Salesforce has now raised revenue for 73 straight quarters, with the most recent showing a 26% year-over-year gain. In addition, the corporation earned $1.82 billion in service subscription revenue during the quarter. Its acquisitions, including Slack, resulted in an extra $1.48 billion in sales, representing a stunning 53% growth year over year.
Salesforce's rise does not imply a "fall" in SAP's position in an industry that is expanding so rapidly. SAP was one of the world's fastest-growing major cloud providers in Q2, with 34% cloud-revenue growth, second only to Google Cloud's 36%. SAP announced overall sales of $7.52 billion for the second quarter ending June 30.
Overall, SAP did not fare poorly in all major categories. Salesforce is simply the market leader in cloud solutions. According to recent CRM software data, the new business applications leader has a 23.8% market share in the CRM area and is one of the world's largest SaaS companies.
Why did it take Salesforce so long to dethrone SAP? SaaS users have been gradually increasing over the years. According to MarketsandMarkets' 2021 study, the SaaS industry grows by 18% yearly. In reality, almost 80% of firms use at least one SaaS service, and this proportion is expected to rise this year as options diversify. SaaS platforms provide a slew of essential benefits to customers at a fraction of the expense of traditional systems, which is why most firms choose them.
Salesforce has evolved from providing CRM tools to delivering various solutions for sales, marketing, commerce, and business communication. Its Enterprise package is $150, far less than the IT fees associated with on-premise systems. SAP is in the same situation. It offers an extensive array of solutions that span topics, including corporate resource management, financial management, and supply chain management. Pricing, like Salesforce, is less expensive than that of on-premise solutions.
In today's scenario, shifting to the cloud is no longer a luxury for most businesses; it is a must. Salesforce's success against SAP and SAP's transition to cloud solutions is the prime example of it.