Learn How Salesforce Inspector Can Help You Navigate the Most Complex Salesforce Instances
In the realm of Salesforce, where efficiency and precision are paramount, having the right tools at your disposal can make all the difference. Among the plethora of productivity tools available, Salesforce-related Chrome Extensions have emerged as indispensable aids for both Salesforce Admins and power users. One such extension that stands out is Salesforce Inspector, which offers a wide range of features to streamline tasks such as Salesforce metadata analysis, debugging, and API exploration.
In this blog, we will delve into the remarkable capabilities of Salesforce Inspector and explore how it can empower you to navigate even the most complex Salesforce instances with ease.
What Is Salesforce Inspector?
Salesforce Inspector is a popular Chrome extension utilized by Salesforce professionals, with a user base exceeding 400,000 individuals. It serves as an additional layer on the Salesforce interface, easily set up by adding it to the Chrome browser. The extension manifests as a compact arrow situated on the right-hand side of the screen. With a simple toggle, it unveils a convenient panel, ensuring effortless access whenever necessary. Salesforce Inspector offers valuable functionalities, allowing users to gain insights, troubleshoot issues, and manipulate data within their Salesforce environment.
How to Use Salesforce Inspector?
Here are some ways to use Salesforce Inspector to navigate and optimize your complex Salesforce instances:
Effortlessly View Fields and Values
One of the standout features of Salesforce Inspector is its ability to provide instant access to field values that may not be visible on the page layout. This feature allows you to effortlessly examine and navigate through related records by clicking on the Id value from a lookup field, granting you comprehensive visibility even beyond the standard layout. Moreover, you can conveniently utilize the "Show all Data" option for Reports, eliminating the need for repetitive column modifications.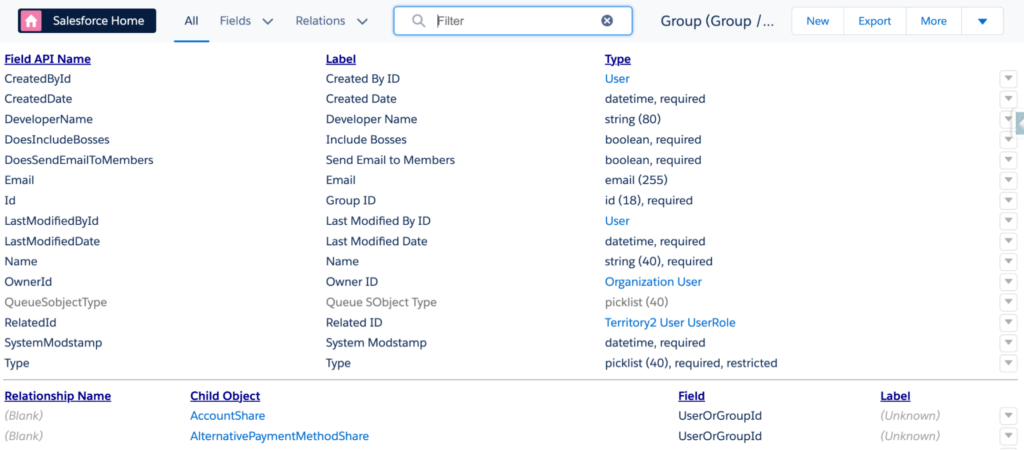 Streamline Searching and Filtering
Salesforce Inspector simplifies your search process by offering a user-friendly Objects search bar accessible from any Salesforce page. This enables you to search by object name, prefix, or other parameters, swiftly locating the desired information. The extension also supports advanced search options, allowing you to explore data by Label, Salesforce API Name, and Help Text. This versatility helps you narrow down results, particularly when working with objects that encompass an extensive array of fields.
Efficient Querying and Exporting
The Data Export feature within Salesforce Inspector empowers you to streamline your querying process. With its query editor, you can effortlessly write SOQL queries similar to the Developer Console or Workbench, saving you valuable time and effort. Additionally, you have the option to save frequently used queries and export query results for further analysis or manipulation. Furthermore, if you require metadata-export, Salesforce Inspector provides a dedicated button within its panel.
Simplified Field Editing and Streamlined Error Handling
With Salesforce Inspector, you can seamlessly edit fields directly within its intuitive interface, provided that you possess the necessary permissions. This powerful functionality makes updating field values a breeze, significantly enhancing your efficiency. Whether you need to modify text fields or make changes to other field types, Salesforce Inspector empowers you to handle field editing with ease.
Seamlessly Manage Records
Not only can Salesforce Inspector export record data, Salesforce metadata, and custom query results, but it also offers a quick and efficient way to manage your record data. With the ability to insert, update, or delete records, you can streamline your data management process with ease. Just be sure to review the import help documentation beforehand, and note that Bulk API is not currently supported.
Monitor Org Limits
As you work with multiple integrations in your Salesforce org, it's important to keep track of your org limits, such as daily Salesforce API requests. With Salesforce Inspector, you can easily inspect your org limits by clicking the dedicated button in the extension window. For further information on API limits, refer to the official documentation provided by Salesforce.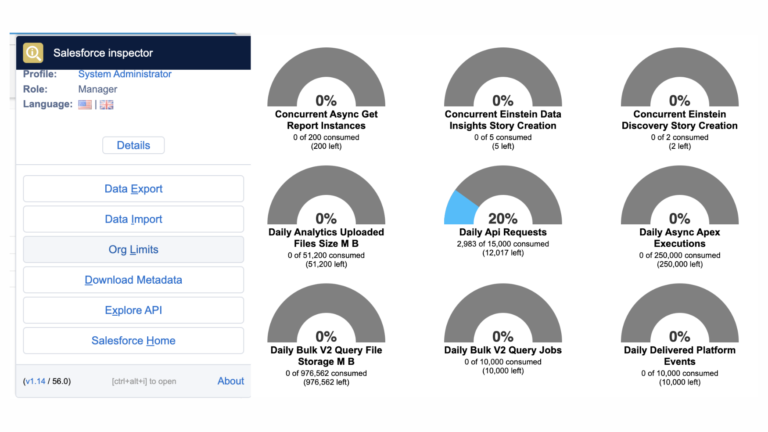 Efficient Object Setup Navigation
For Salesforce admins, the object setup navigation feature in Salesforce Inspector is a game-changer. By providing a shortcut to commonly accessed areas, such as validation rules and layouts, you can save valuable time and effort. Power users with view setup and configuration permission can also benefit from this feature, making object setup navigation a breeze.
Streamline Page Layout Editing
Editing page layouts directly from a record can be a time-saving feature, especially when dealing with multiple page layouts. Although it is not available in Lightning Experience, Salesforce Inspector offers the ability to quickly navigate to the edit page of the page layout assigned to your user, cutting down on clicks and improving efficiency.
Access Field Metadata with Ease
Finding the API Name of a field or the formula behind a formula field can be a challenge, particularly if the label doesn't match the Salesforce API Name. Salesforce Inspector's "Show Field Metadata" feature in Salesforce Classic simplifies this process. Although not currently available in Lightning Experience, this feature can still be accessed in User and Territory Records without switching to Classic.
Effortlessly Login as Any User
Salesforce admins often need to log in as other users in their org for testing purposes or to troubleshoot errors. This process can be cumbersome, requiring navigation to the user record and then logging in as them. Salesforce Inspector streamlines this process with its "Login as Any User" feature, allowing admins to search for the desired user in the side panel's Users tab and click "Try login as" from any page.
Conclusion
Salesforce Inspector emerges as a vital tool for navigating complex Salesforce instances, offering a range of features that streamline workflows, troubleshoot effectively, and uncover critical information. With its user-friendly interface and powerful capabilities, Salesforce Inspector empowers Salesforce Admins and power users to optimize their processes and make informed decisions. 
To maximize the benefits of Salesforce Inspector and take your Salesforce implementation to new heights, partner with Manras, a certified Salesforce consultant specializing in CRM implementation. As a top Salesforce Summit (Platinum) partner, Manras provides unrivaled CRM consultation services tailored to your unique business needs.