How Einstein GPT and Data Cloud to Flow Helps Customers with Automated Workflows?
Salesforce, a pioneer in innovation, has once again raised the bar by integrating Einstein GPT and Data Cloud into its powerful workflow automation suite. This integration brings immense opportunities for businesses seeking to optimize their operations and deliver personalized experiences to customers. Einstein GPT and Data Cloud seamlessly connect with Flow, enabling enterprises to leverage the power of natural language prompts for creating automated workflows.
In this blog, we will explore what is Einstein GPT and Data Cloud to Flow, delve into the benefits of automated workflows, and provide practical guidance on how to implement  automated workflows in your business.
What is Einstein GPT?
Einstein GPT is an AI-powered content generation solution unveiled by Salesforce at TrailblazerDX '23. Building upon ChatGPT technology, Einstein GPT combines public and private AI models with CRM data, allowing users to ask conversational questions directly within Salesforce CRM. Additionally, Einstein GPT continually learns and adheres to best practices based on the inputs provided by users, ensuring its ongoing improvement and alignment with industry standards.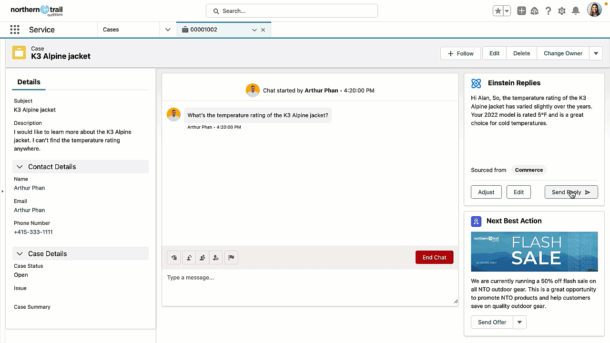 What is Einstein GPT for Flow?
Einstein GPT for Flow revolutionizes the process of creating complex business solutions by seamlessly integrating the power of Salesforce Flow with conversational AI capabilities. With this integration, non-technical users can now leverage the simplicity of a conversational interface to create and modify automation, significantly lowering barriers and empowering a wider range of users. By combining the natural language processing capabilities of Einstein GPT with Flow Builder, individuals with limited technical expertise can create more powerful and impactful automation while adhering to best practices.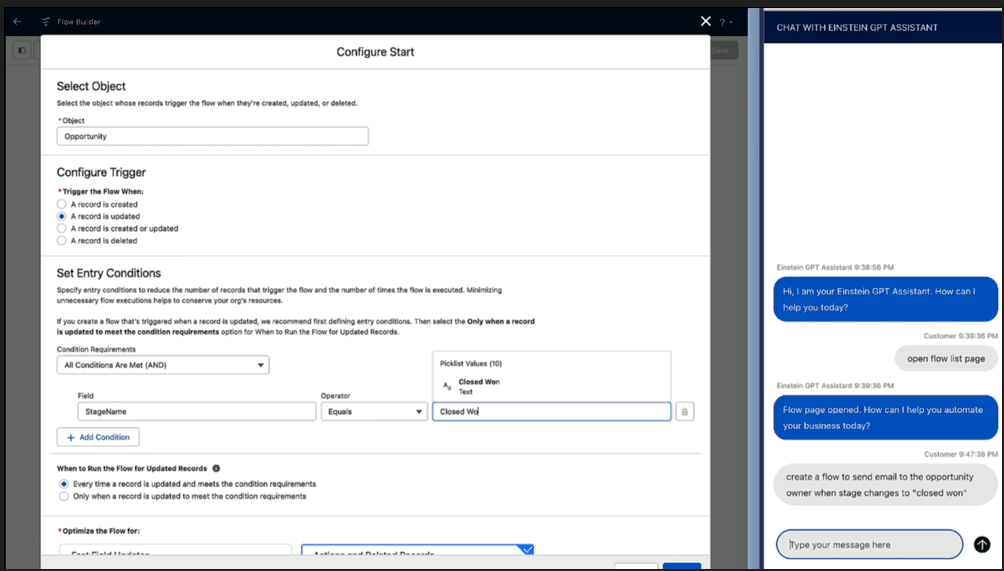 What is Data Cloud?
Data Cloud, previously known as Genie, is a powerful solution introduced at Dreamforce 2022 by Salesforce. Serving as a central hub, organizations can create highly personalized customer experiences in real-time. Data Cloud efficiently ingests and stores massive-scale real-time data streams, seamlessly combining them with existing Salesforce data, thus empowering businesses with comprehensive insights and enabling enhanced customer engagement.
What is Data Cloud for Flow?
Data Cloud for Flow revolutionizes workflow automation by seamlessly integrating real-time data integration with Salesforce Flow. Data Cloud empowers users to automate complex workflows and trigger actions based on real-time changes by connecting, harmonizing, and unifying all company data in a single customer profile. With built-in connectors, users can effortlessly bring in data from various sources, including Salesforce apps, mobile, web, connected devices, and legacy systems, enabling a complete picture of customer information.
How to implement automated workflows in your business
To implement automated workflows in your business, harnessing the capabilities of Einstein GPT for Flow and Data Cloud opens up a realm of possibilities. With Einstein GPT for Flow, you can leverage the following features:
1. Near Real-Time Flow Creation
Simply describe the desired flow, and witness its creation in near real-time. This streamlined approach eliminates manual configuration and accelerates the flow creation process, enabling quick implementation of complex workflows.
2. Automatic Formula Generation
Einstein GPT automates formula generation based on user descriptions. By describing the required formula, Einstein GPT automatically builds it, reducing the need for manual coding and enabling seamless implementation of complex calculations and logic within your flows.
3. Enhanced Searchability and Automation
Improve searchability by describing the function you need to locate. Einstein GPT intelligently inserts the correct flow automatically, eliminating the time-consuming task of searching for sub-flows and invocable actions. This enhances productivity and streamlines the flow creation process.
Furthermore, Data Cloud for Flow presents numerous examples of how it can be leveraged to create interconnected and personalized customer experiences:
Marketers can optimize the retail experience by using automation powered by real-time telemetry data to offer timely in-store discounts.

Commerce professionals can enhance eCommerce through dynamic pricing, automatically adjusting prices based on real-time demand and supply, while also updating inventory levels and availability information.

Financial service companies can automate fraud detection and prevention by leveraging real-time data, flagging suspicious transactions based on unusual patterns such as large withdrawals or transfers to foreign countries.

Manufacturing companies can optimize production processes and efficiency by utilizing real-time data to monitor machine performance and trigger automated maintenance requests.
Conclusion 
The integration of Einstein GPT and Data Cloud into the Salesforce Flow platform opens up a world of possibilities for businesses seeking to enhance their operational efficiency and provide personalized customer experiences. By leveraging the power of natural language prompts and seamlessly connecting with Flow, organizations can streamline their workflows, automate complex processes, and unlock new levels of productivity.
Partner with Manras, a Platinum Salesforce Consulting Partner, to unlock the full potential of Einstein GPT and Data Cloud for your automated workflows. Drive your business to new heights with top-quality services and expert guidance. Contact Manras today and embark on a journey of streamlined processes and personalized experiences.