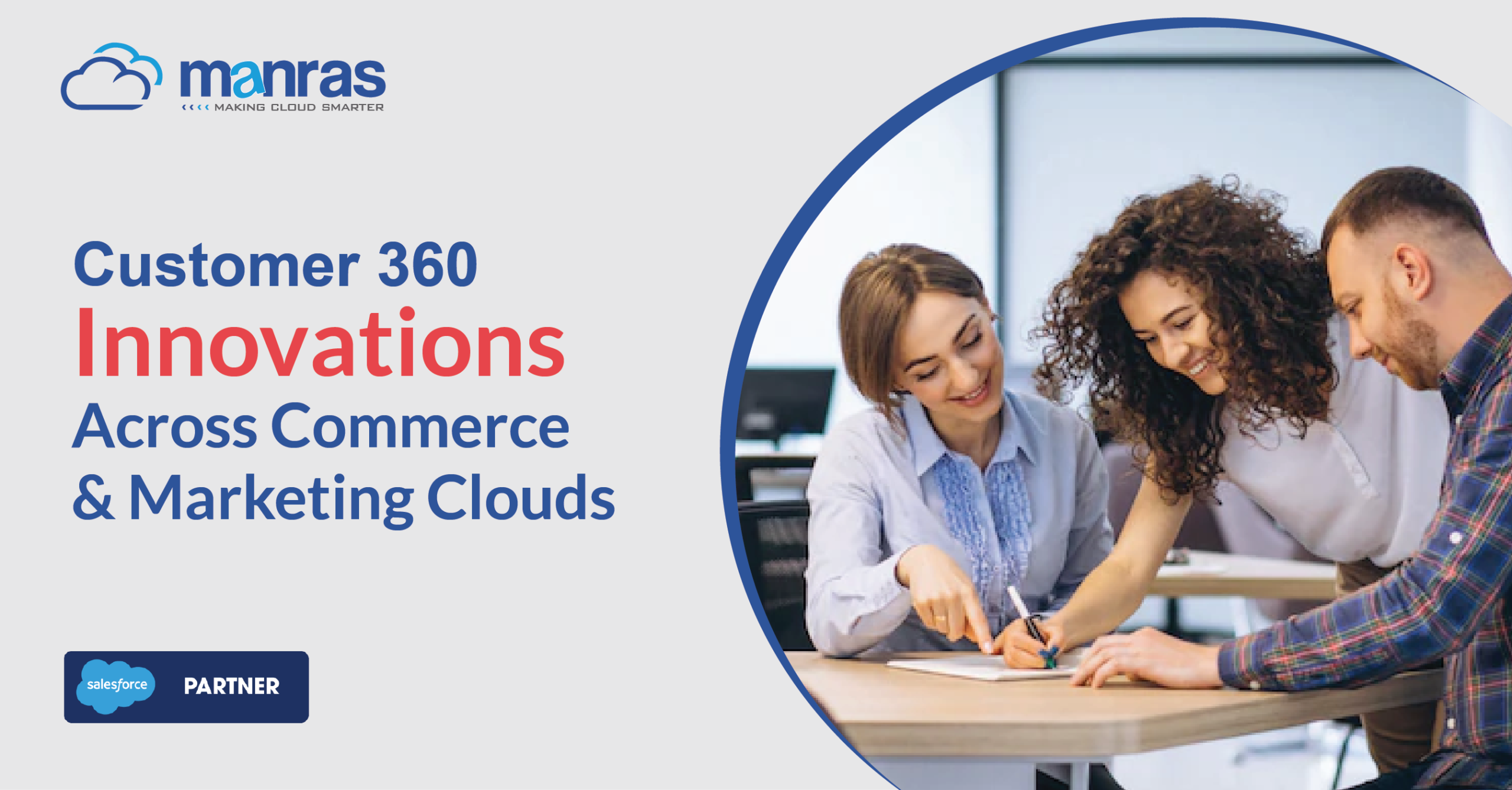 Customer 360 Innovations Across Commerce and Marketing Clouds: Key Takeaways
Salesforce has introduced a new set of Customer 360 innovations. It was a resounding success, and it brought to light some very remarkable sessions and cutting-edge inventions. These innovations bring together customer data from multiple sources on one platform to help businesses connect, automate, and personalize their interactions with customers at a large scale. 
Here are the key takeaways from Salesforce Connections 2022 in case you missed them at the conference.
Major Highlights of the Release
First and foremost, Salesforce announced a slew of new features in the Commerce and Marketing Cloud. Let's take a closer look at the Salesforce Marketing Cloud and Salesforce Commerce Cloud.
During the first segment of the

Salesforce Customer 360

release

, Salesforce made an announcement on a new interface with Google for the portability of first-party data. This interface will make it possible for businesses to more effectively plan, execute, and optimize marketing strategies on the Google platform.

In the second part of their

Customer 360 Innovations

, Salesforce detailed the inclusion of new Salesforce AppExchange Partners for its Commerce Cloud and CDP (Customer Data Platform).

The introduction of NFT Cloud as a pilot was included in the third segment of the presentation.
Newly Released Salesforce Marketing Cloud Features
Triggered Campaign Messages
This tool, which is already available, gives businesses the ability to create targeted one-on-one contact with consumers based on behavior triggers and information about new products. 
Now companies can utilize reliable first-party data to learn which goods their consumers favor, and then personally interact with those customers when those products are either back in stock or going on sale.
Salesforce CDP integration with Google Ads
Businesses now have the ability to use first-party information in a centralized client base on Google Ads for more effective campaign planning and activation. First-party data may be used instead of cookies to offer tailored advertisements, and in the long term, segment-level analytics can be added to the CDP interface.
B2C Commerce Cloud Intelligence Connector
Using this connector, businesses can see how sales, profitability, and performance metrics have changed over time. Businesses may now automate the labor-intensive ability to integrate data and determine where to allocate resources in order to maximize return on investment (ROI) across platforms, initiatives, and offerings. 
As an example, marketers may now view, in real-time, the number of orders made during a campaign, or the top three goods purchased by certain client groups.
Slack's digital command center
Businesses may boost productivity by using Slack as a digital command center to manage all of their digital operations, including marketing and commerce, from a single location. In this way, marketers are able to discover and rectify problems before they can have a significant effect.
App for Ecommerce Insights
This application brings together a company's data and key performance indicators (KPIs) pertaining to commercial activity and brand management on a unified system, hence producing interactive visualizations with insightful and actionable data.
Salesforce Commerce and Marketing Cloud AppExchange partners
The Salesforce AppExchange is the world's biggest business cloud marketplace, and the company has announced new partnerships for its CDP and Commerce Cloud. These collaborations expand the capabilities of Salesforce to increase productivity, create highly tailored experiences, and develop trusted connections with customers.
Newly Released Commerce Cloud in Salesforce Features
Using Commerce Cloud, businesses can efficiently and simply establish, maintain, and grow a marketplace solution, allowing them to expand their inventory and access new customers and channels. As a result, businesses may see an increase in their overall earnings, as well as in their fees for subscription and commissions.
Commerce for Customer Support
With smart features, service operations may become revenue spinners by giving representatives a comprehensive picture of purchase histories across platforms and the flexibility to offer refunds, replacements, discounts, or fulfilling activities without forwarding them to other divisions. Bots, a kind of digital interaction capability, may speed up the ordering process and increase customer loyalty by providing better post-purchase support.
Integration of social media in the workplace
Businesses may now use TikTok to advertise their products and services. In order to locate and target new customers, companies may establish and systematize product feeds while also segmenting their audiences.
Using the Salesforce NFT Cloud pilot, companies can securely and reliably extend their customer interactions into Web3 settings. In addition, they may use the Salesforce Customer 360 Gateway to create NFT and seamlessly link consumer data to obtain a 360-degree perspective of a consumer's physical and virtual worlds, allowing them to understand the market.
Conclusion
After everything is said and done, that is all there is to know about the new developments that were presented at Salesforce Connections 2022. If you want to incorporate these new capabilities into your organization, you might need some assistance. We at Manras would be delighted to hear from you and answer any questions you may have.
Manras is a reliable Salesforce partner that offers support for Salesforce as well as services related to the implementation of Salesforce. After you have a comprehensive grasp of everything, it is time to get customized Salesforce products. Leverage the knowledge and expertise of our consulting team to assist you in setting up, configuring, and personalizing your Salesforce services.